Palen Music Center Quick Note

Monday, October 27, 2008

The PMC Quick Note is a weekly service provided to all area directors. It is part of our mission to support the lives of band directors across the Midwest. The weekly Quick Note contains helpful tips and suggestions from area directors, spotlights on area college and university band programs, calendars of upcoming events, advocacy articles promoting music education, links to helpful web resources, and much more. Comments, suggestions, ideas, and articles are always welcome.

Looking for help on a particular topic? Be sure to check out our Quick Note Catalog of back issues!
---
Get Some Bargains on Jupiter Closeouts
Scroll to the bottom of this Quick Note issue for some great deals on Jupiter closeouts. These items are one-of-a-kind and will sell out quickly at these prices.
---
Palen Music Salutes a Great Marching Season
Congratulations to all of the band directors, students, and parents who made this another incredible marching season. Palen Music Center was proud to sponsor several festivals across the Midwest including Carrollton Band Days, the Valhalla Marching Festival, the first-annual Reeds Spring Ozark Mountain Marching Festival, the second-annual Broken Arrow Invitational, the Missouri State University Ozarko Marching Festival, and the Rolla Route 66 Marching Festival.
We put together a short two-minute video compilation of the sights and sounds of the Ozarko Marching Festival and posted it on our website. Be sure to check it out!!!
---
From the Theater of the Mind to the Downbeat on the Field
by Bobby Hullett


Finding and capturing ideas for a successful marching show
Note: Palen Music Center would like to thank Ken Martinson and the folks at www.marching.com for giving us permission to reprint this article.
Already, or constantly, thinking about "next year?" Programming your show can sometimes be a daunting task. The process is your key and here is one method to prepare your program for success.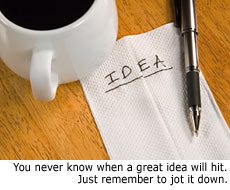 The Napkin: Staying ahead of the curve is essential. In many instances, directors and design staff will have the Idea Engine running full tilt constantly. Keep an open mind and be receptive to your surroundings and everyday life. You never know when that elusive idea is going to flip your internal switch. When it does and the bells and whistles go off, jot it down on anything, even a napkin. As you build your own catalog of epiphanies, be mindful of your program's limitations, capabilities, and potential. There is nothing wrong with shelving an idea until your program provides a symbiotic opportunity. If your program severely overreaches its grasp, the end result will most likely leave you with unhappy students, discouraged parents, a frustrated staff, and a great idea that simply did not come to fruition. All out of ideas? Never be afraid to ask for help.

Staff Mealings: Communication between the director, designers, and staff is essential, especially in the planning stages. Schedule a design meeting around a meal. Whether you are grilling at your house or reserving a few tables at the local wings authority, food will create a relaxed social atmosphere and get the creative juices flowing. Ownership and "buy in" to the idea is crucial and essential for all members of staff, top to bottom. Everyone involved in the planning process should have an opportunity to give and receive feedback, present their own ideas, as well as modifications to others, and remember to be objective. Most of the concepts brought to the table will be the vested interests of someone and should not be callously thrown under the bus. Make every attempt to establish and maintain a fluid organic process.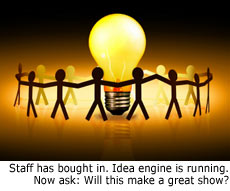 The Idea Engine: Your concept will usually begin with a theme. For example, you might want to base your show around the color blue. Your next decision will be either visual or musical. In most instances, it will not matter which emerges first, for one leads to the other, leaving it a circumstance of choice. From the visual perspective, you might choose to center the show around elements involving the sky and or water ... this will then lead you to your musical counterpart. If you approach the musical avenues first, you might decide to employ the blues and a little jazz ... this will then create the visual persona you seek. The idea engine is limitless and always in production. The question and challenge emerges as simply, "Will this make a great show?"

Feed your PETS:
Pacing. Your two most important factors inherent in pacing are the length and undulations of your show. In length, you will need to find a balance between the stamina of your ensemble and the phraseology which best serves the written program. The undulations of your work (peaks and valleys) must provide tension and release, both musically and visually, to create the emotional response you desire from your audience.

Effects. The pivotal ingredient that separates the shows of legend from the rest of the field is effect. Coupled with pacing, you should plan your effects moment to moment. It is important to remember that the entire program cannot be "the effect" simply because there will be nothing available for contrast. Your effects must be well orchestrated and achievable to reach your audience and convey your ideas fluently. These are your peaks. As you move through your valleys, remember to consider your transitions.

Transitions. The most important and sometimes most overlooked elements of your show are the transitions. As you plan your effects, how you get in and out of them is just as, if not more important than, the effect itself. The downfall of any designed program, visually or musically, can be hearing the word "functional" applied to your transitions. The solution is held in motivation, purpose, and direction. Your transitions must provide the audience with a sense of perpetual motion as they ride along in the vehicle you have created.

Strengths. You are your program's harshest critic and greatest fan. No one knows your ensemble better than you and this knowledge should be used to your advantage. As you opt through the show ideas from season to season, choose and plan the show to harness your program's strengths. For example, if you just graduated every horse you have in the brass section, don't choose a big band show for the fall. One misconception that many directors and staff hold on to is the need to hide your weaknesses. In contrast, your approach through planning and programming should simply be not to expose them. Use them as the thread and not the needle.
Please click this link to read the rest of this article.
---
Get Some Bargains on Jupiter Demo Instruments
Check out these great deals on Jupiter closeout instruments. These items are one-of-a-kind sample and demo instruments. They will sell out quickly at these prices. If you are interested, contact your road representative or email Eric Matzat. We can only hold the instrument for you if you have a purchase order or credit card ready to go. These prices include delivery to your school.
| Model | Description | MSRP | | Notes |
| --- | --- | --- | --- | --- |
| 1246L | Jupiter Pro Flugelhorn | $2,140 | | Sample instrument |
| 5060S | Quantum Baritone | $2,215 | | Minor scratches, sample instrument |
| 528L | Bb Valve Trombone | $1,490 | | Small dent in bell |
| 530L | C Valve Trombone | $1,490 | | Lacquer blemishes |
| 590S | Jupiter Silver-Plated Sousaphone | $6,985 | | Body dents, finish flaws |
| 767BL | Intermediate Alto Sax (black lacquer) | $1,815 | | |
| 847SG | Intermediate Soprano Saxophone | $2,625 | | |
| CFH850 | Carnegie Flugelhorn | | | Sample instrument |
| CH800 | Jupiter Double Horn | | | Sample instrument |
| CO40 | Jupiter Oboe | | | Sample instrument |
| 893SG25 | Jupiter Intermediate Baritone Saxophone | $5,570 | | New, discontinued |
---
Contact Your
Local
Palen
Music
Center
Can we assist you with anything? Please contact your local Palen Music Center school road representative for all of your music education needs.