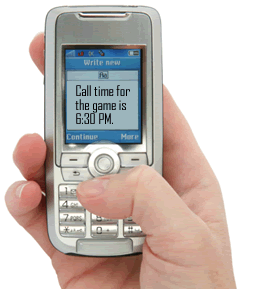 Now This Is Cool!
Keeping in touch with your band students, parents, and staff through mass texting.
It is likely that the majority of your band students, staff, and band parents have cell phones with text messaging services. Wouldn't it be great if you could send out a text message to the entire block of recipients, and do it for free*? The best way to accomplish this feat is to send a short email to text message. All cell phone carriers provide a way to convert email messages and have them appear as text messages on recipients' cell phones. For example, Alltel subscribers can receive email by typing their 10-digit phone number@message.alltel.com. (example: 4171234567@message.alltel.com). The email will then appear instantly as a text message. Cool, eh? The only trick is that you need to know the provider for each phone number.
Here are some of the common carriers and the format for sending email as text messages:
Alltel

10digitnumber@message.alltel.com

AT&T

10digitnumber@txt.att.net

Nextel

10digitnumber@messaging.nextel.com

Sprint PCS

10digitnumber@messaging.sprintpcs.com

T-Mobile

10digitnumber@tmomail.net

US Cellular

10digitnumber

@email.uscc.net
Verizon Wireless

10digitnumber

@vtext.com
Follow these steps to set up your instant group text:
Have your students/parents/staff fill our a consent form that asks for their cell phone number and cell service provider*.
Using your email program, enter the email addresses (using the chart above as a reference) as a group. This way, each time you want to send a mass text message, you only need to enter the group name as the recipient, and your program should do the rest of the work. If you need help with this step, check with your school I.T. department. They can easily set up a distribution list for you.
Open up your email program, type your message (keep it very short....this is a text message, not an email), and hit send.
That's it!
Using this system of communication is perfect for communicating schedule changes and current information/updates. If you have the ability to send email on your phone, it can even be used to text all of your band parents and let them know when buses will be arriving home from trips.
If you have any questions, please feel free to drop me an email. Good luck!
*Most people are set up to send email for free, but many plans charge to send/receive text messages. It is important to put some sort of disclaimer on your sign-up sheet for parents/students to check their plans to see what fees are associated with them receiving text messages.
---