---
Begin With The Basics - STAY With The Basics!
by John Bell

The beginning of a new school year is always an exciting time for teachers and students in instrumental music. For older students, it's a time to once again get together and do what few in our schools have the opportunity to do – learn new ideas, expand on those already learned, and actually implement those things through performance. These are objectives that most other curricular areas have attempted to adopt during recent years. In our case, we've always focused on learning things with a specific applicable goal in mind.
The new school year also offers instrumental music teachers the unique prospect of welcoming beginning students to not just a new and different class, but to an entire program, one with which they may be engaged for several years. This possibly lengthy student/teacher relationship is somewhat exclusive in the school setting. Because of this, instrumental music teachers have a chance to make a lasting impact on students' learning.
All successful curricular areas focus their attention at the beginning of the school year on basics or fundamentals. Particularly with students new to instrumental music programs, an understanding of fundamentals needs to be established as an ongoing objective, one which needs to be revisited on a regular basis. This is analogous to sports activities with which many students are involved. I've never heard of a team learning calisthenics during their first few sessions, only to discard them once they've been mastered!
I've been fortunate to observe instrumental students from several different areas of the Midwest. Invariably I'm drawn to trying to detect not only how they have been taught, but what they have been taught about fundamentals. Here's a question I regularly ask students with whom I have the opportunity to work. "How many of you were taught a 'system' of counting rhythms when you were in beginning band?" The answer is usually what I've come to expect; fewer than ten percent remembered anything about how to count or why it was an important concept!
Develop and Use a System
This sounds like a simple statement, but my example above demonstrates that many simply introduce a method of counting but then fail to continue its use.
There are many counting methods in use today. The most traditional with which I am familiar is the "1-an-2-an" syllabic system. I've left off the 'd' of 'an' for a specific reason; when counting orally an additional syllable can be added to the process, which interferes dramatically when trying to be precise. Listen the next time you hear this for 'an-da' being verbalized!
Another common syllabic system of counting uses "1-ta-2-ta" to simulate articulations. There is also a "breath impulse" system in use by many programs with which you may be familiar. Steady foot taps for all methods are usually an important part of the process as well. The vital part of all this is that you use something and that it's used on a regular basis!
Application
Many successful programs have beginning students perform basic rhythm lines during the early days of instruction, counting audibly while clapping the rhythm. This was such an important part of the last band program with which I was involved that beginning students were required to pass an individual "performance" test covering basic rhythmic instruction before bringing an instrument to class. This may seem a bit severe to some, but there is no question students were aware of how much emphasis we placed on knowing how to count before an instrument was in their hands!
Keep Using the System!
This is perhaps one of the most important parts of this article! If you don't 'test' it once in a while, how do you really know they're still using the system? I continue to be made painfully aware of this every time I observe the sight reading process used by most high school performance ensembles at the State Large Group Music Festival. "Sight reading" is perhaps a misnomer; it's really "evaluating-how-you-are-taught", which is truly more reflective of what is done in the classroom. I've been impressed with the enthusiastic manner with which students approach this objective every time I've observed a group that nails the material. It is immediately evident that students have not only been taught an applicable rhythmic system, but that they continue to use it in their every-day learning process.
So, do your students and your program a favor. Teach a system of counting, from day one, and continue to use it on a regular basis. Your program will benefit, and most importantly, your students will know what to do when confronted with rhythmic challenges.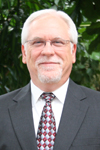 John Bell recently retired as Director of Bands and Music Department Lead Teacher at Park Hill South High School, and also taught at Park Hill HS and William Chrisman HS. He holds degrees from Central Missouri State University (now UCM) and the University of Illinois with postgraduate work toward the DMA in Conducting at The University of Iowa. John is a recipient of the John Philip Sousa Legion of Honor. He is active as an adjudicator and clinician throughout the Midwest, serves on the faculty of Missouri Western State University as an adjunct Professor of Horn and Music Education, and is the co-conductor of the Northwinds Symphonic Band. He can be reached by email at jbell@palenmusic.com.