---
Sight-Reading in Middle School Band by Liz Sauer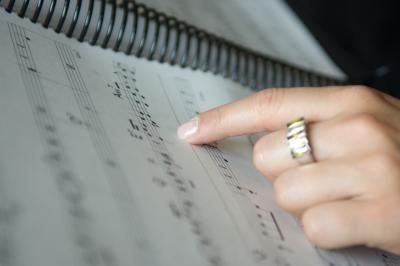 We all know that the development of sight-reading skills is a vital component of music education. It makes students learn music faster and develop individual musicianship, as well as exposes them to new music. These skills are essential for high school band and should be developed at the middle school level. We also know that logistically, sight-reading at the middle school level can be a nightmare. I sight-read with all of my middle school bands on a weekly basis, and the techniques I use can make this endeavor a little less scary for any director. Organization and management are the keys to success.
First, identify your leaders. I find that my first chair players are my natural leaders. Teach them how to divide the parts (how many 1st clarinets, 2nd clarinets, etc), and how many parts to hand out (one per stand). In my class, they come to my stand and I hand them their sections' parts. This process eliminates time wasted by the director having to hand out individual parts, and it is more time efficient than doing it prior to class starting. Percussion parts can be an issue, but I tell my section leader to "be smart" about handing them out and to be sure that all parts are covered. This method may not always be ideal, but it exposes the percussionists to different parts that I might not typically assign them for a concert.
The actual sight-reading process is up to the director. I take the time to go over the key, meter, any changes or tough rhythms, and other typical problems to be addressed before starting a new piece. My goal is to have them play it straight through. If I am considering it for contest or a concert, I would expect them to play at 70% accuracy. A higher accuracy rate is going to be music that is too easy, and less than that will probably be too difficult. If we are sight-reading just for the sake of sight-reading, I try to go a level easier than I would normally give them.
After we are finished playing a piece, my section leaders collect the parts. They put them in order within their sections (all music straight, facing the same way) with the first parts together, second parts together, etc. This enables me to collect the parts in score order, which saves me a lot of time in the long run. Some years, I even teach one section leader in the brass and one in the woodwinds to collect the parts in score order for me, which takes even less class time.
Sight-reading doesn't have to be a huge ordeal to work into your weekly schedule, if you do a little planning and delegating. We all go over rules and classroom expectations at the beginning of the year, and the steps to successful sight-reading should be considered just another classroom routine that once in place, can proceed smoothly throughout the year. I believe it is an important part of developing young musicians, and can be really fun for the students and director alike.
Liz Sauer has taught band for 19 years, the last 17 years at Pershing Middle School in Springfield. A graduate of Hannibal High School, she received both her Bachelor of Music and Master of Education from Truman State University (then Northeast Missouri State University) in Kirksville. Her concert and jazz bands consistently receive I ratings at contest, and they can often be seen playing in the community. She lives in Springfield with her sons Jack and Calvin.
---
Yamaha in Oklahoma!!!
We are excited to announce that the Palen Music Center location in Broken Arrow, Oklahoma is now a fully-authorized Yamaha dealer. All five PMC locations now carry Yamaha band and orchestra products.