---
A Summer Missed.....Is A Summer Lost!!
This article, written by Jerry Hoover at Missouri State University, gives some great tips on how to get the most out of your summer planning. Hard to believe that the school year is already winding down.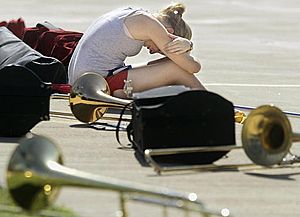 In the high energy, performance field of band directing, the various holiday, spring, and summer breaks are appreciated by students and teachers alike. They provide us a well-deserved rest and a chance to recharge our emotional batteries.
Students, however, can rebound rather quickly and we will be remiss if other musical opportunities are not offered and vigorously encouraged.
Summer band camps and touring bands provide instruction, rehearsal and performance experiences, that will only further enhance their total band growth. The "change of scenery" in another venue with students from other schools will not only keep your students playing their musical instruments in the summer months, there will also be a desire to equal or best the new musicians with whom they find themselves. All of this comes back to the home program in a number of positive ways.
But! Do not think a casual mention of these musical happenings, or a half-hearted effort on your part will suddenly influence a large number of your students to change their summer routines. That is why you will initially get the greatest response from the middle school band members. Then the many fun memories will tend to draw them back each summer as they progress through their prep years.
More efforts will need to be put forth with your older students, but the returns will be worth it.
Here are a few suggestions:
Put literature on what's available in the hands of all your students....keep back-up copies...mention it often in band,
Letters home to the parents,
Discuss it at your band booster meetings,
Approach local banks and civic clubs to provide summer scholarships....present the awards on certificates at the spring awards assembly with the names of the benefactors included on them...publish these awards in the local newspaper,
Urge whole sections -- clarinets? trumpets? drumline? -- attend as a group (like the guard or flag squads are already doing),
Get them to camp as a group in a bus (parents can then pick them up at the end of the week)...this will be especially enticing to the younger students...take a group picture for the local newspaper before they depart.
Here are some other thoughts for the summer break:
Run a four or six week band program for beginners, or for middle or high school groups,
A nominal fee charge will allow salaries for the instructors,
Top students in your band program can be selected to teach sectionals in the program, earning them some income and giving them teaching and leadership experience,
Cap off the session with a concert-in-the-park and an ice cream social or watermelon feed put on by the booster club.
Obviously, there are many programs and ideas that can be considered for the summer break and that would benefit your program. Hopefully the above thoughts will stimulate your thinking.
Jerry Hoover is the Director of Bands at Missouri State University, where he supervises a student offering of eighteen bands. He personally directs the Jazz Band, Symphonic Band, Varsity Band, several entertainment ensembles, and the 320-member Pride Marching Band. After twenty years in the public schools (Cabool, Lebanon, and Jefferson City) where he developed award-winning concert, marching, and jazz bands, he accepted the band position at New Mexico State University where he remained for seven years. He has been in his present position at Missouri State since 1985.