---
Don't Forget To Have Some Fun! by Rob Goade

WARNING! This article does not contain any profound new pedagogical information. It's a simple reminder that it's ok to just have some fun in this sometimes overly intense profession.
This is close to the end of another marching season for most of us and the competitive marching events are over. But some of us still have home football games left. You could just take another opportunity to perform the competition show again, but why not have some fun with these performances?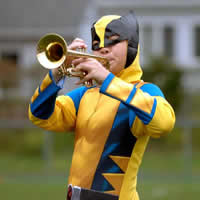 One year our last home game fell on or near Halloween so we decided to have some fun with that. I pulled out the ET Fanfare and an easy arrangement of Ghostbusters. We released early in the first half and the kids dressed up in costume. We hid ourselves behind some large black plastic as we entered for half time. I positioned a smoke machine in the middle of the formation for a little added effect. We did a scatter drill and slow turn to the stands on the fanfare (having the auxiliary unit slowly bring the plastic prop to the front sideline). We marched into a concert set for the second tune and let the auxiliary unit have some fun with it. Then we ended the show with the fight song. We put all this together in 3-4 rehearsals. It wasn't a flawless performance but the crowd loved it and the kids had a blast. I received more positive comments from patrons on that half-time performance than any other performance that year.
I guess the message here is not to get so wrapped up in the competitive side of marching season that we miss out on opportunities to HAVE SOME FUN!

Rob serves as a road representative for Palen Music Center at our Columbia, MO location. He grew up in Granby, Missouri and attended East Newton High School. He holds Music Education degrees from Southwest Baptist University and Central Missouri State University (now UCM). Rob taught instrumental and vocal music for thirty-one years in Missouri schools. He served as Band Director grades 5-12 in the Morgan County R-2 School District, Versailles from 1977-1979, High School Band and Vocal Director in the East Newton School District, Granby from 1979-1985, and Band Director grades 5-12 in the Boone County R-6 School District, Centralia from 1985-2009. Rob has been married to his wife Terri for thirty-six years and they reside in Centralia, Missouri. They have three daughters, Rebecca Attaway, Amarillo, Texas, Mary Murphy, Kansas City, Missouri, and Deborah Goade, Centralia, Missouri. You can contact him by email at

[email protected]

.
---
Building Excitement for Band in High Poverty Settings
We are excited to share a great article that was just published in School Band & Orchestra magazine written by Janice Bengtson from Springdale, Arkansas. There are some INCREDIBLE ideas on marketing and recruiting for your program. Click on the image below to read the article.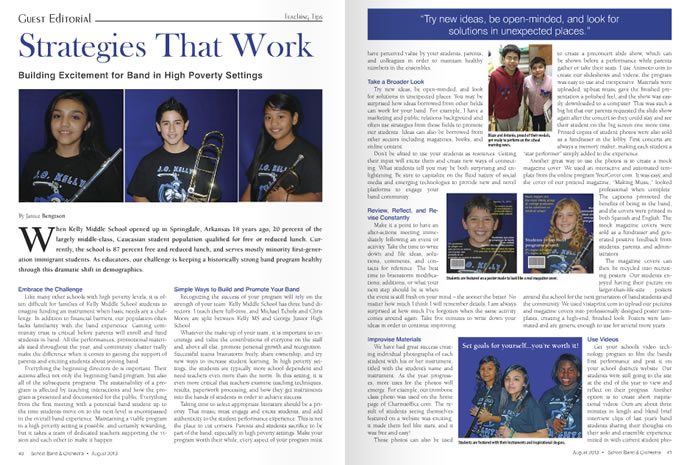 Janice Bengtson is in her second year of teaching in Springdale, Arkansas and was named the 2013 "Teacher of the Year" for J. O. Kelly Middle School. Previous experiences include teaching band at Trickum Middle School, Gwinnett County Public Schools, GA; Marketing and Public Relations at Virginia Tech; and 20 years as clarinetist with the U. S. Air Force Band Program.