---
Bringing the Star Spangled Banner to Life by Lori Hutton
Back in November, we celebrated a wonderful Veterans Day Assembly at our school put on by our local Veterans Association. The Marshfield High School Band was asked to perform several patriotic selections throughout the service. The highlight was performing the Star Spangled Banner. After hearing some of the military bands perform this at Midwest and in D.C., I decided to take our marching band arrangement and rearrange it for concert band. After looking at the words to the first verse, it occurred to me that to follow the meaning of the words, we should play the opening stanza as a slow chorale with no percussion, "Oh, say can you see by the dawn's early light…." Traditionally, the bridge is played without percussion and at a softer dynamic level. However, we did a crescendo into the bridge, "and the rocket's red glare, the bombs bursting in air…", adding in the snare drum roll, bass drum and cymbal crashes playing at a forte level and sustained this until the end. It was a very dramatic performance and one of our students made the comment "that we brought the words to life." One of the joys of directing and teaching music is the freedom to make music out of music. This was a great teaching moment!
| | |
| --- | --- |
| | Lori Hutton is in her twenty-first year of teaching instrumental music. She has taught in the Marshfield school district for the past sixteen years and has previous teaching experience in the Seymour and Lebanon School Districts. She earned both her undergraduate and graduate degrees from Drury University. Lori was the recipient of the 2004 Marshfield Teacher of the Year Award, Who's Who Among Teacher Awards, and the John East "Spirit of Orpheus" Mentor Award; and also been nominated for the Grammy Teacher award. She is a member of National Association for Music Education, Missouri Music Educators Association, Missouri Bandmasters Association, South Central Missouri Music Educators Association, Phi Beta Mu Honorary Band Organization, Jazz Educators Network and Missouri Association for Jazz Education. She is also an active adjudicator and clinician. You can reach Lori by email at [email protected]. |
---
George Junior High School (Springdale, AR) Recognized Nationally for Commitment to Music Education
Ranks Among Nation's 66 Top Schools for Support of Music Education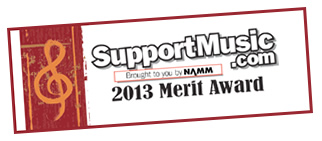 George Junior High School receives the "2013 Support Music Merit Award" from the NAMM Foundation for its outstanding achievement and commitment to music education. George Junior High School joins 66 schools across the United States to receive the prestigious award this year.
"Music is a pillar of our school. As a young school establishing traditions, music provided opportunities to build foundations for success. Our music programs inspired and synergized an astonishing self-confidence and self-gratification in our students. Music has become a cornerstone for our community." Don Hoover, Principal.
700+ students are involved in regularly scheduled music classes each day at George Junior High School. Each year, the Band and Choir Programs have shown growth in numbers of students participating as well as demonstrating rigor by performing challenging music at high levels of achievement. Recently, the GJHS Choir performed at the Arkansas All-State Convention. Also, the GJHS Band performed at the American School Band Director Association (A.S.B.D.A.) Convention held in Chattanooga, Tennessee.
To qualify for the Support Music Merit Award, George Junior High School answered detailed questions about funding, graduation requirements, music class participation, instruction time, facilities, support for the music program, and community music-making programs. Responses were verified with school officials and reviewed by The Institute for Educational Research and Public Service of Lawrence, Kansas, an affiliate of the University of Kansas.
---
Two Million Reasons Why Marching Band Kids Are So Responsible
We ran across a great article on the AMP (National Association of Music Parents) website regarding band kids and all of the things they need to master on the marching field. Here is a link to the original article. This organization is doing trememdous things for music education advocacy. Please check them out!
We have all watched a marching band at half time. We have all marveled at the quality of music and the complexity of marching, but have we ever considered how much responsibility is placed upon a marching band member?
Mr. Gary Gribble, director of the Alan C. Pope Bands, has created some mind boggling facts which should make us more than marvel at what happens on the field during half time. Gary writes:
"Let's assume, for simple math, we have a moderate to above average-sized marching band of 100 wind players, 20 percussion, 20 color guard, and two drum majors. Now, while it seems fairly straight forward…just play your music and march to various spots on the field… here's what REALLY is facing them.
"In an average production of 2 minutes duration, there will be somewhere in the neighborhood of 300 notes played per student (some parts will be less, some more). For each note played, the student must be responsible for:
Correct fingering of note
proper tone quality
proper pitch
correct beginning articulation
correct release/ending
correct duration/timing
balance to other players
blend with other players
appropriate volume
"This means at least 9 responsibilities per note times 300 notes…understand that sometimes the student will not play during segments, so this is an average…2,700 responsibilities per student…times 100 players = 270,000 musical responsibilities for the wind section.
"Percussion will have more notes in snare/mallet parts, perhaps fewer in bass drum and accessory parts, but on average, about the same number of musical concerns …substitute stick heights for pitch correctness, since it is not typical to tune drums as you go. This adds 2700 responsibilities…times 20 percussionists = 54,000 musical responsibilities for percussion.
"Color Guard must be concerned with:
timing
hand positions
equipment angles
speed of spins
height of tosses
direction of spins…not to mention holding on to or catching equipment!
"Number of counts roughly parallels musical notes, so assume 300 beats times 6 responsibilities, or 1800 items per guard member…times 20 members = 36,000 more things to do.
"So far, we are up to 360,000 responsibilities, and we haven't touched marching. With marching, there are at least the following considerations:
posture
direction of facing
instrument position
staying in step
staying in form
size of step
tempo
style of movement (Toes up? Knees straight? Shoulders square?)
control of space between members
On average, there will be one step per beat of music, or approximately 240 steps. This means 240 times 9 responsibilities per member,…times 140 members …302,400 more things to think about.
"The drum majors must be on top of:
tempo, beat pattern
dynamics
communication of style/energy to band
poise/showmanship
or approximately 1200 items… times two majors…2400 more responsibilities.
"Keeping up so far? We're up to 664,800 things that have to be done correctly… AND WE'RE JUST TALKING ABOUT THE FIRST PRODUCTION OF THE SHOW!! Assume there are three segments in the average show, our grand total jumps to a staggering 1,994,400 responsibilities on the members for a single performance.
"The next time you watch a marching band show, examine the level of expectation and delivery that occurs with each student. It is truly remarkable, and it will help you appreciate even more the feeling that comes from a well performed show. When they are done, stand up and cheer their efforts…they are truly at the top of the 'responsibility pyramid' when performing in marching band."
Thanks, Gary Gribble, for sharing with us all of the responsibilities which are demanded of our marching youth! What an accomplishment for these young people. We will all cheer more abundantly and with more understanding for all of the performing bands we encounter!

---