---
Congratulations to Chris Moore!
50 Directors Who Make A Difference
Each year, School Band & Orchestra Magazine publishes an article on fifty band directors who make a difference. We are proud that Chris Moore from Springdale, AR was selected to represent the state of Arkansas. Click here to view the entire article.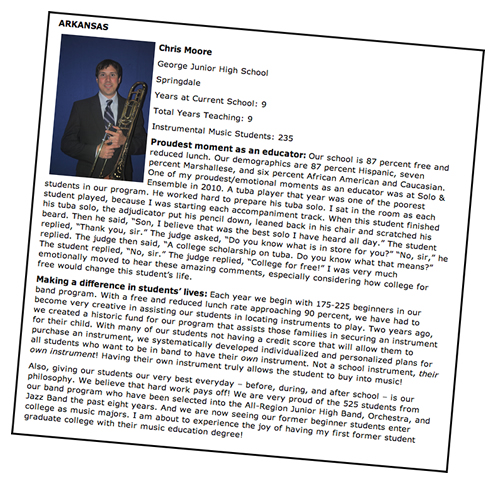 ---
Professionalism in Music Education
by Randell W. Mealer
Webster - professional (adj) – engaged in or worthy of the high standards of a profession
Webster - professionalism (n) – professional quality or status
Mealer - Professionalism in Music Education – hmmm.....here to start? Teacher, learner, mentor, role model, activist, community leader, salesperson, organizer, artist? Yes, all of that but much more.
Professionalism in music education or anything for that matter is being a professional in life. A true professional must have balance (self, spirit, family, work and play). I am a very hard worker, yet I play as intensely as I work. I know who I am and I am comfortable with myself. I have a great and loving family and I know where I will spend eternity. That being said, how did I get there, how long did it take and how did I know?
When I began teaching in the fall of 1987, I was all about me, me, me! How do I get recognized, how do I make more money, how do I get to be in the paper, how do I get leadership opportunities, how do I make 1st division ratings? I had a long list of things I needed to accomplish as a young director that knew everything and I need to achieve the status of greatness yesterday. Needless to say, I knew very little and that was a road of self-destruction and loneliness. I am an intelligent individual and I realized very quickly (it took 7 years) that I had much to learn.
I taught for seven years before I realized I was missing something – my work and my reason for being had no soul or direction. I made my grand exit from teaching and spent ten years in the business world, and then it hit me. It wasn't about me; it was about how I could influence others, how I could guide them to achieve success, how I could serve them.
I returned to education in the fall of 2004 and had a different perspective – not about me and achieving my greatness – but about helping others achieve their greatness – it is a calling, this music education profession – and professionalism is the key.
Be a teacher – strive every day to be a better educator than you were the day before. Practice patience, humility, understanding and develop a nurturing attitude.

Be a life-long learner – never stop reading, attending professional develop meetings, never stop asking questions, never be satisfied.

Be a mentor – a loyal friend and advisor.

Be a role model – in everything you do (professional dress, the manner in which you carry yourself, your use of vocabulary, the activities you are involved in, your family time and professional/leadership associations).

Be an activist – lobby for your beliefs, your program and the arts in education.

Be a community leader – be seen in the community in which you live and work in as a leader, a participant, join service clubs, volunteer for events and activities – you are, in fact, a leader in your community.

Be a salesperson – sell yourself and your program to your students, future students, peers, supervisors, parents and community.

Be organized – it saves time and you will accomplish much.

Be an artist – share your art form and talents with others.

Be all that you are destined to be as a music education professional and practice professionalism. Since I made the adjustment from the need to achieve my personal greatness to helping others achieve their personal greatness, great things have happened to me, my family and those I serve. I attribute that to professionalism in my profession.

| | |
| --- | --- |
| | Mr. Mealer is a 1982 graduate of Mtn. View High School and earned a BME degree from Henderson State University in 1987. At HSU Mr. Mealer studied with Don E. Kramer, Wendell O. Evanson and Dr. Wes Branstein. Additional graduate course work has been completed at PSU and MSU. Mr. Mealer has taught in Both Arkansas and Missouri. His Missouri experience included Monett, Webb City and Republic. His Arkansas teaching experience includes Pea Ridge, Pulaski County Special School District and Harrison. You can reach Randell by email at [email protected]. |
---