---
It's Contest Performance Time: Don't Forget To Focus On The Big Three by Rob Goade
Yes, it's here again. And for most of the schools I visit, the one thing looming in the back of the director's mind is the number that will appear at the top of the rating sheet. But I hope we don't forget that the number is not nearly as important as the performance and how we prepare. The Standards for Ratings on the judge's sheet are there to remind us that this is about performance and they should apply to any performance for which we are preparing. Our goal as directors is to help our students continually strive to move our performance level as far to the left side of that sheet as possible. So how do we do that?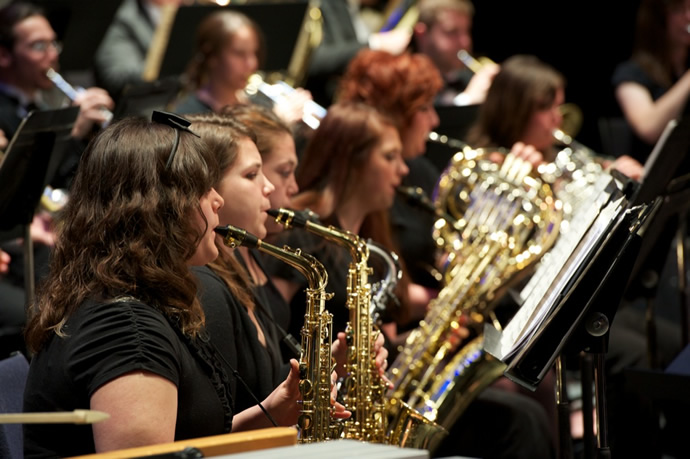 During my years at Centralia, I had the privilege of having Mr. Bill Mack, one of our legendary Missouri band directors, come and work with my band. (For more about Bill, see the October 10, 2011 Quick Note by one of his former students, Julie Capps.) One of the many things that stuck with me from the conversations we had and watching him rehearse my band is the 'Big Three'. Bill pointed out that there are basically three factors that contribute to the rating he gives as contest judge: Accuracy, Intonation and Musicianship.
Accuracy of notes and rhythms is an obvious part of any great performance. We have to play the correct notes in rhythm and in time. I know this is stating the obvious, but our students need to take ownership of this performance aspect from day one. They need to understand that it is ultimately their responsibility and that the more rehearsal time required to deal with these issues, the less time we have to concentrate the on the other musical aspects that contribute to a memorable performance.
Musicianship is critical to an 'Outstanding' or 'Superior' performance. We have to make all the other markings on the page come to life: tempo, dynamics, articulations, phrasing. We should begin calling attention to these from day one. They are what make the notes and rhythms come to life. Again, I know that I am stating the obvious and these performance aspects have probably been a major emphasis in our rehearsals as we are preparing for our contest performance.
As you probably noticed, I skipped the second performance factor. I'm afraid as band directors that we often fail to put an equal amount of emphasis on intonation. Assuming that 3-4 minutes of tuning with a tuner at the beginning of the rehearsal is going to result in our band being "in tune" fails to consider some very important aspects of intonation: tone, balance and blend. Bill loved to point out that the middle word in intonation is 'tone'. Good intonation requires playing "in-tone" with proper balance and blend. One of my favorite "Mackisms" is that "you can't tune a bad tone". Good intonation has to start with a good tone. This is the first thing we start helping our students develop in beginning band and it is important enough to continue emphasizing every time we rehearse from middle school through high school and college. Don't neglect the opportunity you have during your initial warm up to reinforce the elements of good tone production: posture, breathing and embouchure. Student's need to be intentional during the warm up, listening to match tone with the other members of their section. Then emphasize blending and balancing across the ensemble, so that students are developing those listening skills that will promote good intonation. There are a host of method books and warm up materials out there that you can use for this purpose or you can write your own. Long tone and scale exercises should be included as part of our daily warm up to continue the development of consistent tone quality throughout the range of the instrument. You should also include chordal studies and/or chorals to develop student's listening skills by encouraging them to match tone and develop good balance and blend within sections and across the band. As students begin to consistently listen and develop these three concepts, many of your ensembles tuning issues will be solved. Playing "in-tone" is the key to developing at outstanding ensemble sound.
I'm sure all of us can recall performances we have heard that have been truly memorable. In most cases the thing that stood out was not only the technical and musical aspects of the performance, but the depth and richness of the ensemble's overall sound. I remember to this day hearing a performance by Ken Seward's Richmond high school band at MMEA. I walked into the performance area as they were warming up (that's a "no-no" now) and was wowed by the sound that I heard coming from that 50-60 member ensemble. The tones that emanated from each section were so balanced and blended that they filled the whole room with a simply gorgeous sonority. Of course, the band played wonderfully in every technical and musical aspect, but the thing that I most remember some twenty-five or so years later is the beautiful ensemble sound they made. In my mind this is what we are all striving for. Not just a rating, but a memorable performance. It can happen if we keep our focus on the "Big Three" and do not neglect the importance of playing "in-tone".
Best of luck this contest season and may it be a positively memorable experience!
| | |
| --- | --- |
| | Rob grew up in Granby, Missouri and attended East Newton High School. He holds Music Education degrees from Southwest Baptist University and Central Missouri State University (now UCM). Rob taught instrumental and vocal music for thirty-one years in Missouri schools. In addition to his position with Palen Music he is currently working part time as beginning band instructor at Smithton Middle School in Columbia. Rob has been married to his wife Terri for thirty-six years and they reside in Centralia, Missouri. They have three daughters, Rebecca Attaway, Amarillo, Texas, Mary Murphy, Kansas City, Missouri, and Deborah Goade, Centralia, Missouri. You can reach Rob by email at [email protected]. |