Monday, September 8, 2014
---
MARCHING BAND PRO AUDIO - PART ONE by Brett Palen
A Simple Process for Optimizing Mixer Performance
Pro Audio equipment has long been a mainstay in DCI and large school marching shows, but it is quickly finding its way into every marching program in the nation. When dealing with sound reinforcement equipment, it is important to learn the basics of gain structure in order to keep the "signal to noise ratio" at its optimum percentage. Here is a simple procedure, directly taken from the "Yamaha Sound Reinforcement Handbook", to ensure that you have, in fact, taken as much power from the microphone as possible before using amplification from another part of the mixing console, thus reducing noise.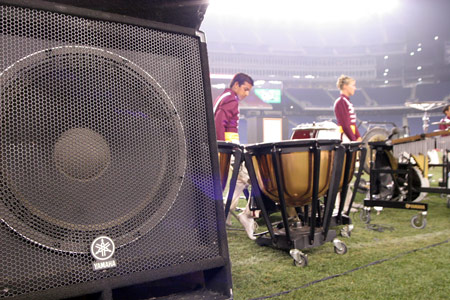 STEP 1
To set the GAIN, first turn it down all the way. On most consoles, this means full counterclockwise rotation. Make sure that any PAD or ATTENUATOR switch is NOT engaged.
STEP 2
Set the channel's slide fader almost all the way to the top of it's travel. Some consoles have a heavier line, arrow, or some other mark on the slider scale that can be used as a normal or nominal setting for this procedure.
STEP 3
Set the Master faders (and submasters if used) to this same almost to the top position, or to the manufacturer's mark.
STEP 4
Now, turn up the GAIN as high as necessary until the VU meters indicate the desired level (typically peaking around zero, or two-thirds of full scale).
By following this simple process, you will keep unnecessary noise from entering your signal path, and ultimately from reaching the ears of the audience!
Brett Palen
CEO
Palen Music Center
[email protected]
Brett graduated from the University of Arkansas in Fayettville with a degree in Music Education. He was a music educator in the public schools, private teacher and professional musician for many years. Brett joined Palen Music Center in 1983 and became an owner in 1996.
---