Monday, February 9, 2015
---
The Development of a Band Program: Another Approach by Bob Drummond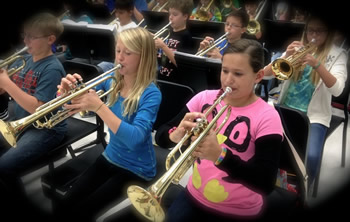 As one of the newest members of the Palen Music team, I have been asked to write an article on a subject that might, at best, be of interest to our readers. Here is an article on the band program I developed at Grandview High School. I hope this explanation will at least give you something to think about, if not some ideas for things to try.
This system has worked well during my 18 years in the Grandview Schools. It was basically the same system that I used for 10 years in the Rolla Public Schools. The program has continued in Grandview after my retirement with a few adjustments over the years. The system implemented included changes in every level of instruction and a complete reorganization of the beginning stages of instruction, teacher assignments, and the high school band program.
Beginning Band
In response to the lack of instructional time during the sixth grade year (two 20-minute periods per week), the program was open to all students and began during a six-week summer program following the sixth grade year. Beginning students provided their own instruments or used one of the large instruments provided by the district. Beginning instrumentalists met in like-instrument groups for six weeks of instruction during the summer. Two full-time instructors were used to provide 45-minute instructional blocks during the summer. (An Advanced Band and Jazz Band for grades 8 through 12 students was also offered during the summer.) Students made as much progress in this intense summer program as we were making in their first full year of instruction in the sixth grade. Each student received instruction specific to their instrument for the summer. We found that because of the faster advancement we lost fewer of the top students and had less student "burn-out." This faster advancement also set the tone for the student's progress in instrumental music for the rest of their time in the band program. Students that were unable to attend summer band and any student moving into the Grandview system at the beginning of the seventh grade year were given the opportunity start band with the other seventh grade students. This was possible because the entire class began the year with a complete review of the summer instruction. This offered every student that expressed interest the opportunity to participate.
Teacher Assignments
All three directors worked as a team and taught at all grade levels. The assignments were truly team teaching as each grade level band had at least two instructors assigned to the class, while the high school program and the seventh grade bands had three instructors assigned to the bands. The instrumental specialty of each teacher was utilized as much as possible at all levels of instruction. The advantages of staffing a program in this manner was more continuity, coordination, and articulation in all phases of the music program from beginning to end.
The seventh grade bands were divided into woodwind, brass, and percussion which required the use of three separate rooms, but make for intensive instruction. Eighth grade band students were furnished a "free" semi-private lesson during band class on a two week schedule. All three instructors had responsibilities with the high school marching band that were covered with extra duty pay. Each director also had extra duty pay for their assigned school. Extra duty pay was also assigned for two jazz bands at the high school and one at each junior high. An extra-curricular Junior High Honors Band which was composed of the most talented instrumentalists from both Junior Highs, with membership by audition only, met on a regularly scheduled basis.
High School Band Program
The band program at the high school (grades 10-12) was divided into Symphonic and Concert Bands as a result of auditions held during the second week of school. Each band met during the same period in separate facilities for the entire year. This gave students the opportunity to move between band without class schedule problems and also present combined concerts.
The Marching Band met as an extra-curricular activity open to any student in grades 9-12 enrolled in the instrumental music program. Students were not required to participate in the marching activity to participate in the band program. This type of marching band made possible a year round concert band program, as all marching band rehearsals were extra-curricular.
Another curricular offering at the high school was a course entitled Jazz Techniques. This course offered students an opportunity to explore jazz style, interpretation, improvisation, and jazz music theory. The High School Jazz Band, however, met as an extra-curricular activity.
Conclusion
If this brief explanation of the Grandview Program has you yearning for a change in your own program, I would be happy to help through further detailed information, copies of proposals, discussion, or any help I can give. My thanks to all those of you that have been a part of the development of this program.
Bob Drummond
Educational Representative - Palen Music Center Liberty
[email protected]

Mr. Bob (Robert) Drummond has over 42+ years of experience in instrumental music at the public school level. Mr. Drummond completed his undergraduate and masters level study at Central Missouri State University in Warrensburg, Missouri. He also completed extensive study at the University of Iowa. Mr. Drummond was selected as Missouri Outstanding Band Director in 1990 by Phi Beta Mu, National Bandmaster Fraternity, Lambda Chapter of Missouri. He was selected to receive the Jess Cole Jazz Award presented by the Missouri Unit of the International Association of Jazz Educators in 2002 for lifetime contributions in the area of jazz education in Missouri. Mr. Drummond is currently director of the 5 Star Jazz Band, a community based big band, with members from over 24 different middle schools, high schools, and colleges. He also currently serves as music director at Fairview Christian Church in Gladstone, Missouri. In 2013, Mr. Drummond received recognition and a resolution from the Missouri House of Representatives for his continued distinction for his personal and professional accomplishments as a music educator for more than forty-two years.