Monday, April 13, 2015
IN THIS ISSUE:
Music Recognized as a Core Subject | Technique for All | Photos from the Classroom
---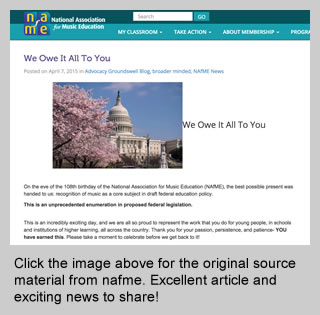 On the eve of the 108th birthday of the National Association for Music Education (NAfME), the best possible present was handed to us: recognition of music as a core subject in draft federal education policy.
This is an unprecedented enumeration in proposed federal legislation.
This is an incredibly exciting day, and we are all so proud to represent the work that you do for young people, in schools and institutions of higher learning, all across the country. Thank you for your passion, persistence, and patience- YOU have earned this. Please take a moment to celebrate before we get back to it!
Early this year, NAfME mobilized more than 10,000 music education advocates to send letters to their lawmakers-and the result is a new bipartisan Senate Elementary and Secondary Education Act (ESEA) proposal, the "Every Child Achieves Act of 2015, "that retains the core academic subject section from No Child Left Behind, and, additionally, adds "music" as a specifically enumerated core academic subject.
"This is game-changing news," said NAfME Assistant Executive Director Chris Woodside. "This is an enormous achievement, and the DIRECT result of the incredible grassroots advocacy efforts of our members over the past few months. Today we are celebrating our members as we celebrate this crucial step forward."
"The benefits of listing the arts as core demonstrate the importance of recognizing our nation's education priorities at the federal level," Woodside wrote recently in Roll Call. "The elimination of core academic subjects from ESEA would jeopardize national efforts to ensure that all students, regardless of race or economic status, have access to high quality school music programs. . . . music advocates . . . must engage with Congress to urge the inclusion of music in federal statute."
As the Senate HELP Committee marks up this new proposal next week, NAfME will be present during those deliberations, standing for our members, in order to ensure that this crucial language is preserved in the draft.
We owe it to our members, who have stood by us for more than a century, for making NAfME the National Voice for Music Education. Founded 108 years ago this week, in 1907, NAfME today represents 140,000 student and teacher members who are members of our middle/junior- and senior-high school Tri-M Music Honor Societies, Collegiate NAfME chapters on campuses around the nation, and our more than 60,000 PreK-12 music teachers, who work daily to ensure our students receive a quality music education-which prepares them for the 21st century workplace.
Again, we thank each and everyone of you for your hard work in and out of the classroom to ensure that EVERY student has access to quality music education. BRAVO!
---
Technique For All by Dylan Gililland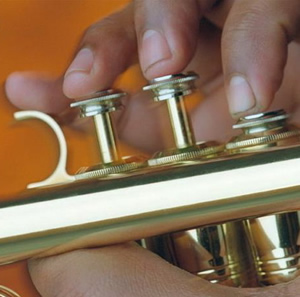 Technique is an ever evading and changing goal that every band director chases. It is one of the most important traits for a successful group, yet it is probably the single most overlooked and undervalued trait. All music is comprised of a series of 12 notes arranged into various rhythmic sets, which are predominately composed of 6 different note values. So how hard can music really be?
Consider the difference between Robert W. Smith's "The Tempest" and Percy Granger's "Lincolnshire Posy". Both use a maximum of 12 notes. Both use common rhythmic devices. How is it, then, that one is much more challenging? The basic answer is technique. The technical approach to "Lincolnshire Posy" requires a much higher attention to musicianship and skill. A common and practical approach to any piece would be to run through it. Let the students get a feel for the piece and then start digging into the meat of the piece. Week after week, you keep hitting the hardest parts in order to clean it up before the ever-nearing concert. You play the concert, pat yourself and band on the back, and then jump into the next piece with the same approach. This method is equivocal to the dreaded "teaching to the test" style of instruction. How does one drift away from this tried and true, and exhausted, way of teaching? Again, the answer is technique.
In 2010, 2012, and 2013, I had the opportunity to march with The Academy Drum and Bugle Corps. I never thought I possessed the skill set or technical ability to perform at such an extreme level until I got out there and did it. The biggest lesson I learned during my three years in the activity can be summed up in the phrase, "Your technique will save you!" That was my brass caption head's favorite saying. And if taken to heart, it can change the way you approach music.
During pre-tour training, we rehearsed daily for three and half hours on visual, three hours on brass, and four hours as a full musical ensemble. Every block started with at least an hour of basics: basic marching fundamentals, basic breathing techniques, basic slurs and articulations. I asked my brass caption head, T. Andre Feagin, why we didn't use that time to work more on the show. His answer redefined my way of thinking. Feagin's response was, "I don't want to waste three months working to perfect the best 11 minute marching show. What do you take away from that? I want to invest three months in you, the individual. If I can help each member of this corps become a better musician, then the corps will have its best 11 minute show possible." His goal was to meet each member at their level and take them to the highest technical level as he could in three months.
Now, I know what you are thinking. "I could do that if I had three months to work with too! But I only get X amount of time, X times per week." There lies the challenge! Here is a suggestion: try attacking a specific technical issue during warm up that addresses a weak spot in your concert line up. That kills two birds with one stone by serving as a warm up and a self-teaching mechanism for the students to apply to the music. Try not to fall into a boring routine that you and your students go through without thinking about it. Tailor the warm up to the group's specific needs. However, you need to keep it well rounded to ensure that you hit all of the basics. A group that can play all of its major and minor scales, execute various articulation styles in multiple dynamic ranges, and recognize and perform numerous rhythmic groupings is set up to have the best musical experience possible.
Dylan Gililland
Palen Music Center - Columbia
[email protected]
Dylan Gililland grew up in North Little Rock, Arkansas and graduated from North Pulaski High School. He attended the University of Central Arkansas for one year then transferred to the University of Arkansas at Fayetteville to finish his degree. Dylan graduated in May of 2014 with a Bachelor of Science in Music Education. During his time in college, Dylan served as the drum major for the Razorback Marching Band. He also marched lead trumpet for three years in Drum Corps International.
Below is a motivational poster hanging in the orchestra room at Centennial Middle School in Broken Arrow, Oklahoma. We are always on the lookout for cool and interesting things in band rooms and will continue to share them.