Music Responsibility Zones by AAron Bryan
I was inspired to write this article after attending a clinic given at the 2015 Oklahoma Bandmasters Assoication by my good friend, and former colleague, Darrin Davis of Broken Arrow High School. I would like to pass along some information on one portion of Darrin's presentation, as I am sure it will help you & your kids.
There are quite a few things that I love about the fall... the weather is beautiful, the leaves change, there's a ton of football on TV, and it's marching band season! Bands across the nation are putting in countless hours coordinating drill right now, and one hurdle we all face each year is overcoming moments of phasing. As you know, fixing phasing issues is never a 100% black and white deal, and there are a few factors that have to be taken into consideration when figuring out which kids should be listening, and which kids should be watching.
1. Which section is providing the pulse? (Pulse Center)
2. Where is the Pulse Center located on the field?
3. How far away is the student from the Pulse Center?
The answers to these questions, along with the chart below, will help kids begin to understand whether they should be listening to the Pulse Center, or watching the drum major during certain segments of the show. This chart assumes the Pulse Center (represented by the star) is near the center of the field, just behind the center X. The "listening area" will shift with the Pulse Center as it moves (or is passed) around the field. Whether a student should watch a drum major or listen to the Pulse Center all depends on how their placement on the field relates to the location of the Pulse Center.
It is the Drum Major's responsibility to conduct to the foot timing of the "Pulse Giver". Many times, this is the center snare. However, if the battery is not playing, the pulse giver changes to whoever's part has most steady beat, or one that is subdivided. Sometimes, only the front ensemble is playing. In that case, the listening area is pretty small right behind them. To avoid visual phasing, these are times when it helps to have strong leaders watching & counting for those around them.
For more information about sound delay, here is a fantastic YouTube video by Andrew Rogers of the Blue Devils.
I hope you will find this chart as useful as I have. Good luck out there & I look forward to seeing your show!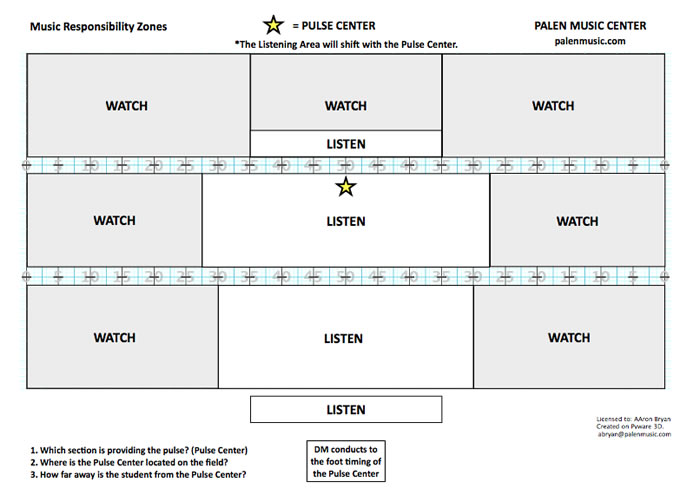 AAron Bryan
Vice President - Palen Music Center
[email protected]

AAron Bryan taught band for 13 years, the last 8 at Broken Arrow High School, home of the nationally acclaimed Pride of Broken Arrow Marching Band - the 2006 and 2011 Bands of America Grand National Champion. Bands under Mr. Bryan's direction were awarded the Oklahoma Band Sweepstakes 8 times, and his Wind Ensemble performed as one of three Oklahoma bands selected to OMEA's Friday evening Honor Concert in 2009. AAron was a lead soprano soloist and served on the brass staff for the Madison Scouts Drum & Bugle Corps. Later, Mr. Bryan was the Brass Caption Head for the Colts Drum & Bugle Corps. AAron holds Master of Arts degrees from Truman State University in Conducting and Trumpet Performance, and a Bachelors Degree in Education from Missouri State University. He is in demand as a clinician, conductor, and drill writer across the Midwest. Mr. Bryan's professional affiliations include Phi Beta Mu, Phi Mu Alpha, Who's Who Among America's Teachers, Oklahoma Music Educators Association, Oklahoma Bandmasters Association, Northeast Oklahoma Band Directors Association, MENC, and he is certified by the National Board for Professional Teaching Standards. AAron and his wife Christa have two boys, Aiden and Tyson.
This graphic is a fun and effective demonstration of how to teach students about repeats, multiple endings, coda jumps, etc. Check it out!