Rising From The Ashes: Rejuvenating the Struggling Marching Band by Kirby Swinney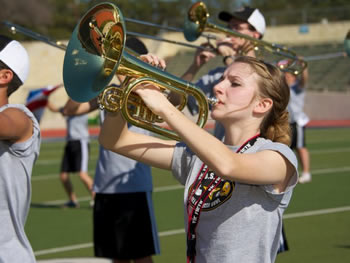 You have just been hired for your very first teaching job. You are excited and can't wait to hit the ground running. You have picked music, stayed up until all hours of the night writing drill and now the first day of band is one day away. You can hardly sleep due to the excitement you feel for the year.
The day arrives and before the coffee is cold, your enthusiasm takes a serious hit when you find out your new band is not prepared for what lies ahead. Not only that, they aren't too concerned about it either. It seems that marching band has never been a big deal at your high school. Your new students ask "Why should I care about it now?"
Energizing a struggling band program is a huge challenge and especially difficult in a situation where the students, parents, administrators and perhaps even the entire community don't share in your vision for what it can be. Below I am going to offer some ideas and suggestions that might get you and your group headed in the right direction. Before I get started, a special thanks to Tuttle, OK band director Seth Boothby for his assistance in writing this article. Seth turned his almost non-existent band program into a thriving one and gave me some very useful information that I have used.
Formulate
Often times, marching bands struggle not because they don't rehearse but because they don't know HOW to rehearse.
If you have inherited a struggling band program, chances are high that quite a few habits have been established that need to be broken. Without going into details, let me just advise you to go against the advice of author Richard Carlson and SWEAT THE SMALL STUFF. Little things in marching band matter a great deal and are the building blocks of every successful organization. Decide how you want your students to do everything (and I do mean everything) from the time they arrive at the rehearsal site until the time the last student leaves. This encompasses all areas from conduct to marching and playing fundamentals. Be as specific as possible. Stick to the plan. Don't expect things you aren't willing to insist upon.
Process is every bit as important as content. If you are uncertain or just need some new ideas, attend a rehearsal of a successful marching band and take as many of your students as possible with you. Have them take notes on how things are done. After it is over, have a meeting to discuss the experience and what they learned from it. Ask each student to write down one thing they observed that could be used in their own band to make it better. Make these ideas the start of your transformation. This process accomplishes several things. It establishes student ownership in your program, develops student leadership skills and may also serve to validate your goals for the program.
Motivate
Without a doubt, motivation is a huge factor in the success of a marching band and is the key to success or failure.
Motivate your students through many short term goals and all but insist that failure to reach them is not an option. Goals should be reasonable, but should challenge the students to work hard in a structured effort. Excuses for not reaching goals are simply not acceptable. It is likely that past failures were met with a variety of excuses. If and when goals are not met students and instructors must take ownership of their shortcomings and formulate a solution to avoid similar failures in the future.
Finally, stay positive while pushing hard toward the goal. Find ways to make the journey a fun, team effort. Note the progress toward the goal and praise it. Celebrate when you hit it.
Educate
Bands struggle for many reasons, but here is a list of the more common ones I have noticed.
1. The music is too hard. If your first chair players are the only students that can perform the music at a high level, then it is too hard. There is zero chance of a quality ensemble sound with just a few strong players carrying the section/band. Music can and should be changed to meet the needs of the group. It is easy to arrange your own music if you are working from an arrangement already. There is no excuse for not changing what needs to be changed so that it can be played well by the vast majority of the group.
2. Failure to play with characteristic tone quality. Tone should never be compromised for volume, range or technical demands. Period. End of story. Choose your music accordingly so that the end result of your efforts reflects characteristic tone.
3. The musical arrangements lack musical depth and quality. Often times directors struggle with this and choose music based on what their football crowd will recognize instead of music that has lasting educational value. Achieving both are possible. Popular music or rock tunes can be arranged with creativity and have lasting educational value as well but just playing the stock arrangement of the latest rock chart will leave you with limited educational material to work with.
4. Director fails to really listen to the band. Don't get so caught up in the visual side of your job that you fail to listen. Every visual set is also a musical phrase and within that phrase are the fundamental musical elements of expression that are often ignored. Rehearse each musical phrase with as much emphasis as you do the visual elements then work to make each compliment the other.
5. The drill is lacking in creativity and demand. Challenge your students with exciting, challenging, yet attainable drill movements. All bands, but especially small bands need to move fast in order to create velocity and energy. Don't sell your kids short when it comes to time and tempo demands. They will rise to the challenge.
Evaluate
When you get to the point where an evaluation of your progress is needed, you are not the objective person in the room. It will likely seem better to you than it really is; you saw it at its worst. Ask other band directors and professionals to your rehearsals from time to time to come out and give you an honest opinion of what they see and hear. A fresh set of eyes and ears will see and hear things you have long since tuned out.
"Feel good" contests serve a purpose but when choosing competitions to attend, balance such events with more difficult contests. If your students are ever going to understand your ultimate goal for them, they must see high achieving bands. It never hurts to take your students to a more difficult contest as an observer or for "comments only," but eventually your students will need to know just where they stack up against the best and the only way to really know is to compete and find out.
Finally, make your students a part of the evaluation process. When the season ends, get their thoughts on what went well and what didn't, what they liked and disliked and especially what they learned from the process. A successful marching band is not possible unless your students take ownership and buy into the experience. Together you can formulate a vision for your program and develop a long range plan for where you want to be in the future. Be patient. The struggling program you inherited didn't get into that shape overnight and there are no quick fixes. Be willing to commit yourself to the long haul by involving yourself in the school and community and as improvement is made, it will be noticed and eventually your program will become "the thing" to do in your school. Here's to your future success!
Kirby Swinney
Educational Consultant
Palen Music Center -- Oklahoma City
[email protected]

Kirby Swinney graduated from the University of Oklahoma in 1982 with a degree in instrumental music education and retired in 2014 after teaching band for 30 years in the Oklahoma communities of Weleetka, Dewey, Choctaw and Shawnee. While at Dewey and Shawnee, both band programs earned their first ever OSSAA sweepstakes award and in 2013 the Shawnee Band Program earned its first ever double sweepstakes award when both concert bands earned superior ratings at the state level contest. Kirby's marching bands were consistently rated superior at regional competitions and were also consistent top twelve finalists at the OBA State Marching Band Championship Contest. Kirby has served as secretary of the OBA Board of Control and also served on the OBA Board of Directors as secretary and president. Kirby has served as band chairman for the Oklahoma Music Educators Association and also served on the OMEA board as band vice-president. He is a member of OMEA, OBA, NAfME and Phi Beta Mu. Kirby has two children. His son Adrian is a recent graduate of the University of Oklahoma and is teaching English in Japan. His daughter Caitlyn is currently a pre-nursing student at the University of Oklahoma in Norman.
---
Six-Second Test by Jim Swiggart
The six-second test is a teaching method to hear each student daily; using a pattern that allows them to play a measure or pattern with a metronome for 4 counts, followed by 4 counts of silence where the director assigns a grade, gives a comment leading to the next student in the seating order until the entire section has played and been evaluated. (Grades are A+, A, A-, etc allowing subtle differentiation, comments are succinct (example: work on tone, hand position, articulation weak, etc.). Play four counts, grade four counts, play four counts, and so on. After last player has played go through the section asking them to raise their hands if they got an A+ (assign new seating from highest chair to lowest) continue then with A, then A- etc. until all have a new seat. Then the student writes his or her seat/grade/date of test on a piece of paper in their folder and takes their new seat at the next rehearsal. When all testing is complete, remind them to take new seats at the next rehearsal. At the end of class, announce that the next seating/grade assignment will be lines 31,32,33. Be ready for any measures in those lines.
Test example:
Daily warm-up is finished. Announce the measure or pattern for testing. Example: second measure, line 5. Start a metronome at correct speed for the example. Start with the flutes, count off for first player, they play, give score/comment on the four counts of silence, and next player begins immediately without missing a beat until section is completed. Once complete, assign seats for flutes. Proceed to the next section. If a player makes a mistake or gets lost, the next player must come in on the correct beat or they get penalized as well. Learn to be at the right place at the right time! Nothing like counting and knowing when to play!
After the test is completed, compliment some of the improvements in skills heard today and note areas that need to be addressed. Sample grade and remark: (A-, improve tone quality) which means the student could have made an A+ with better tone), they obviously played correct notes, patted foot, had good hand position, posture, etc. and the teacher is pointing out the major area for improvement.
A class of 30 students can easily be heard every day in four minutes of class time and the result is they are constantly assessed, graded, motivated, held accountable for assignments, learn techniques by hearing others, etc. and teacher knows what to work on next by hearing them individually! When they are not playing, they must be engaged by fingering the pattern, foot pat and air play the pattern while another student is being tested. They learn to improve silently and stay focused on skill building. The result = strong musicians!
A personal example:
I was teaching a class of 86 beginning students of woodwinds, brass, and percussion and team teaching with a first-year band teacher. We used the six-second test every day after embouchure drills and warm-ups. Enthusiasm was very high (they loved competition), they gained knowledge of all playing skills, learned appreciation for other students skills, stayed motivated daily, took their instruments home every day to be ready for next test, played for their family, gained confidence by playing in front of others and the list goes on! The end result was not one student dropped band, confidence was extremely high and they were a model group as they went through our program with great habits.
P.S. At higher grade levels, shake up the players who have the same part to encourage higher levels of playing and also do a technique drill to shake the section up from top to bottom. Use your imagination. Great for tough places on contest/concert music. MOTIVATION! Personal growth happens when you are evaluated and encouraged daily. Growth is slow when the student is always just a part of a group doing the same patterns without receiving personal attention.
This teaching tool has made a terrific difference in each school I taught in. I hope it helps you! Please email me at [email protected] if you have any questions. Thanks!
Jim Swiggart


Jim Swiggart was inducted into the Oklahoma Bandmasters Association Hall of Fame in 2006. He taught from 1961-2006 at Watonga and Blackwell, Oklahoma, Hutchinson, Kansas, Moore, Okla., Putnam City, Oklahoma and Berryville, Arkansas. After retirement in 199l, he continued his role of General Director of Opera in the Ozarks at Inspiration Point Fine Arts Colony, begun in 1989. This nationally recognized Opera Festival which prepares young artist for opera careers is where he began his music study, singing leading roles and playing in the opera orchestra from 1955-58. In 2001, he came out of retirement to build the Berryville band program from 14 students to over 70 students that culminated in a 2003 performance in the Cotton bowl contest. Berryville won superior ratings in Concert, Jazz, Field Show, Parade and was the outstanding band in Jazz and Field show. He and wife Janice live in Holiday Island, Arkansas and are the proud parents of 4 children and 7 grandchildren.
---