Monday, March 28, 2016
---
The Side-By-Side Concert by Charlie Bartrug
Recently, I became aware of an outstanding idea for recruiting, retention, accountability and overall student excitement within the band program -- a "Side-by-Side Concert". I stumbled on this idea while visiting with the band staff in Stillwater, OK. I took the opportunity to sit down with Kevin Zamborsky, Director of Bands for Stillwater Public Schools, and get more detailed information.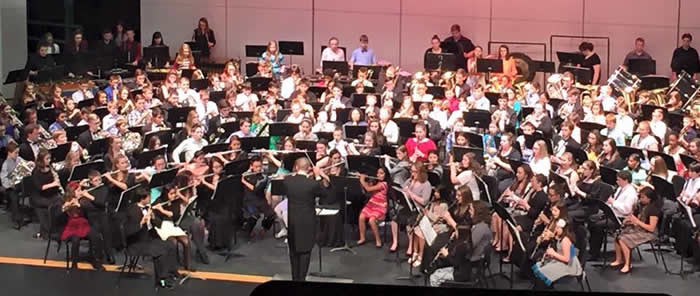 Charlie Bartrug: Can you describe the idea of the Side-by-Side Concert?
Kevin Zamborsky: It is literally our top high school kids sitting next to our beginner kids in a concert setting. We have one set up on stage for the whole concert, and we try as much as possible to get a high school kid sitting between two beginners. We have to modify for the larger sections. For example, in the trumpet section there may be five beginners sitting between two high school kids. In the smaller sections, horns for example, you may have literally every other person being a beginner. The goal is we want our beginners to see what they have to look forward to - not just to hear it because we know they could just come to the concerts, but to actually look over a high school kid's shoulder and see all the notes and things that are beyond their understanding at this point. It's a good thing for our high school students as well, because they are reminded where they started. They can look at the beginner music and remember when that was hard for them. It's nice on both fronts.
CB: Do you use all your high school musicians, or just the Wind Ensemble?
KZ: We just use the Wind Ensemble, because we want the beginners to see the best and brightest. We could use everyone, but logistically it's not practical in terms of concert preparation.
CB: What exactly happens at this concert?
KZ: The Wind Ensemble plays the opening number by themselves, then the beginners do two pieces by themselves. We've been able to find easier music that uses just the first five notes. Sometimes we make an arrangement out of several lines in the book that are related. Then the Wind Ensemble does one more piece by themselves. The last two pieces on the concert are played with the combined bands. We use two beginning level tunes that are slightly more challenging than the two pieces the beginners played by themselves.
CB: So how did you come up with this idea?
KZ: I stole it from my brother, who is the band director in Jenison, Michigan. They do it slightly differently. They rotate the stage where the beginners come up and play their tunes, then the high school comes up and plays their tunes, then they combine. But I like the idea of everyone sitting together the whole time. You do have to plan your high school tunes to hold the interest of the younger students. But I like the benefits of the beginning students trying to follow along with the parts as the high school students play.
CB: What time of the year do you do this concert?
KZ: We shoot for the last Thursday in January. Our beginners do a demonstration concert in November and a spring concert in May. This is a good "gap-filler" for them.
CB: So the beginners don't do a Christmas Concert?
KZ: No, they don't. After our November Concert we switch our beginners over to color instruments (oboe, bassoon, french horn, euphonium, tuba, saxes). That gives those kids enough time to be up to speed with everyone else for this January concert.
CB: Do you find that it's advantageous for your beginners to wait and play this concert in late January as opposed to making them try to put these pieces together in December?
KZ: I think it would be very rushed. It would be a very fast turnaround to try and do a Demonstration Concert and a Holiday concert. Also, adding the beginners to a concert that already has the 7th Grade Band, 8th Grade Band and two High School Bands would make the length unbearable.
CB: How long have you been doing this concert?
KZ: This is our third year to do it, and our retention numbers have gone up significantly -- I would say our retention has improved by 25% since we started doing it. I think it's making a big difference.
CB: Well, that by itself is a good enough reason for doing it. Do you see any other benefits?
KZ: Next year's senior class will have sat side-by-side by the incoming freshmen. So when those freshman walk in the door next year they will have a connection with students going back all the way to the 6th grade. I think that will ease the transition of those freshmen coming to high school band for the first time. Also, there is a benefit to the parents of the beginners. All they are hearing at home are beginner band sounds which are honestly, not always that great. But when they hear what those kids potentially could sound like in three years, it gives the parents something to look forward to and hopefully they will encourage their kids to stay in the program.
CB: What are the logistics involved in getting the two bands ready to play together?
KZ: We just rehearse as a combined group only one time. This year it was the morning of the concert on stage. We made sure we got through our two combined pieces first, then practiced the complete concert order.
CB: Did you prep your high school kids ahead of time?
KZ: We talked to the high school kids about how we wanted them to impress the beginners and also to make them feel comfortable and welcome. They are supposed to visit with them as everyone is coming in and getting seated.
CB: Doing the Side-by-Side Concert costs you about a month's worth of rehearsal time on contest music for your Wind Ensemble. Is that a problem for you?
KZ: Not at all. When I first came to Stillwater I added a February concert that had not originally been there. I think if you do a good enough job with fundamentals, repertoire will take care of itself. It also has to do with the expectation you have for your kids. We expect ours to come in and be able to play their parts. Also, every kid in my Wind Ensemble is required to audition for Honor Band and play at Solo and Ensemble Contest. All of this plays a part in developing the culture of the program. Because this concert benefits the entire program, I think that outweighs any loss of time on contest preparation.
CB: It's pretty easy to see how the Side-by-Side Concert would work for the wind players. How does it work for percussion?
KZ: Logistically, there is a lot to be figured out on part assignments. Tricia (Bovenschen), our percussion specialist assigns the parts carefully so there are older and younger players on the same parts. Obviously, we are doubling and tripling some parts.
CB: Is there anything I've forgotten to ask or you want to add?
KZ: I just think it's a great opportunity for the kids, but I also think it's a great opportunity for our parents and the community to see both ends of the spectrum. When you consider that the freshman members of the Wind Ensemble are only three years older than the beginners, it offers a lot of hope for the younger students and their parents.
Charlie Bartrug
Manager and Educational Consultant
Palen Music Center -- Oklahoma City
[email protected]

Charles Bartrug retired in 2014 after 33 years as a public school band director. The last thirteen years were spent as High School Band Director and Coordinator of Instrumental Music in Yukon, OK. Before coming to Yukon, Mr. Bartrug was band director at Midwest City HS, Guthrie High School, Owasso Junior High, and Collinsville Junior High. Bands under Charlie's direction have earned twenty one O.S.S.A.A. Sweepstakes Awards and three Double Sweepstakes Awards. The Guthrie High School Concert Band performed as an honor group for the OMEA Convention in 1999, and the Yukon High School Wind Ensemble performed in 2014. Mr. Bartrug is a recent inductee into the Oklahoma Bandmaster's Hall of Fame. He earned National Board Certification in 2004, was the 2005 Oklahoma Bandmasters Association Band Director of the Year, the 2005 Yukon High School Teacher of the Year, and a 2009 OMEA Exemplary Teacher.
---
Contact Your Local Palen Music Center Representative
Can we assist you with anything? Please contact your local Palen Music Center school road representative for all of your music education needs.