Monday, April 11, 2016
---
Getting Off to a Great Start with Beginning Band
by Rob Goade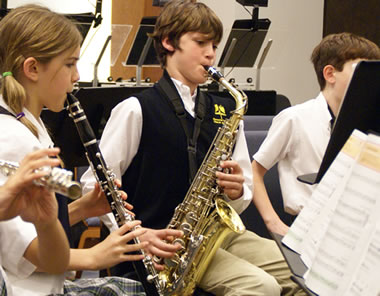 As an Educational Representative for Palen Music, being in and out of band rooms on a daily basis affords a wonderful opportunity to observe and talk with some outstanding teachers. The inspiration for this article came from a recent clinic given by one of these teachers at this year's Missouri Music Educators Association Conference. Julie Capps from Santa Fe Middle School gave a wonderful clinic on starting beginners that I know many of you attended and benefitted greatly from. For me, the basic theme that she kept repeating is that "you need a system for everything you teach." With all the enthusiasm that our beginners have when they walk through the door with their brand new instrument on that first day, it can be tempting to just put the instruments together, open to page one of our book and start blowing. While our students are pumped and primed for that, there is a process that needs to happen before they are ready for exercise one in the band method book. We have to get our young band members to buy into the process.
With that in mind, I want to offer some thoughts on a sequence of steps to take that will help you to get off to a great start.
Rehearsal Starts When You Walk Through The Door
Students need to get into the habit of entering the room with the proper attitude, and following a precise procedure for the start of each and every rehearsal. They need to know that entering the room quietly, in an orderly manner, and immediately getting to their assigned seat with the necessary items (instrument, music, music stand, pencil, etc) is the first priority. The procedure for getting instruments out and storing cases needs to be clearly outlined and rehearsal rules need to be clearly stated and consistently followed. You may have to go over these steps and practice them several times those first few days (or weeks) of class. This is the opportunity to develop team work and a sense of family. I CAN NOT OVER EMPHASIZE HOW IMPORTANT THIS STEP IS TO THE FUTURE SUCCESS OF YOUR STUDENTS AND YOUR BAND PROGRAM.
Proper Posture, Instrument And Hand Position Are Fundamental To Playing An Instrument
Once you have established rehearsal procedures you can begin to work on the first fundamental of a good musician, posture and playing position. Musicians posture should be clearly demonstrated starting day one and consistently encouraged. There are plenty of teaching aids available to demonstrate good posture and playing position for every instrument and your students need to start developing good habits before they ever play a note on the instrument. Make it a daily challenge between individuals and/or sections for the best Musician's posture award.
Good Breath Support Is Necessary To Produce A Good Tone
Once you have established correct posture and Instrument position, the next step is to learn how to take a good breath and how to use that air to create a fast steady air stream. The "Breathing Gym" guys have some great exercises to develop proper breath support. You should incorporate breathing exercises as a part of your daily warm up, encouraging students to continually strive to take in more air and develop the abdominal muscle strength needed to move that air fast. Make a game out of taking full breaths and seeing how many more sips of air the can make before sizzling all the air out of their lungs in a steady stream, as fast as possible.
Correct Embouchure Is The Key To A Beautiful, Characteristic Tone
Once you have established good posture and breath support start working with just the mouthpiece (plus barrel for clarinet and neck for saxophone) striving to produce the correct pitch for woodwinds and siren sounds on brass instruments. Without going into great detail here, I would encourage you to do some research as there is a wealth of articles and material available to assist you in embouchure development. I would also refer to materials from the clinic by Julie Capps. Mouthpiece work is critical to producing a good tone on the instrument, which leads us to the final step in getting off to a good start, playing long tones.
Long Tone Practice Leads To Consistent Tone Quality
Now that you have established proper posture/instrument position, good breath support and correct embouchure, it's time to work on long tones to develop a beautiful characteristic tone on the instrument. It's critically important that you closely monitor and encourage the fundamentals students have already developed as they perform long tones. Again, there is abundant information available in regard to what notes to start with and how to make playing long tones interesting and fun for students. I would suggest you have regular long tone challenges over the course several weeks once students have started playing tones on the instrument. (Keep stickers, candy or other prizes on had for accomplishing longs tone challenges or goals.)
How many rehearsals it takes to accomplish these five steps will to some extent be determined by how often you meet with students and how much individual instruction they receive. You should never start playing exercises in the book until students have developed a consistent characteristic tone and can sustain that tone using good posture, instrument position and hand position.
You probably noticed that steps for beginning percussion students were not included. To some extent that is intentional because there are so many differing opinions on how and when to start percussion students. If you start beginning percussion students with the rest of your beginners, I encourage you to integrate the same sequential system in regard to posture, instrument/hand position, stick/mallet stroke technique, and developing a steady beat.
I believe if you follow this sequential system, helping and encouraging students to master each step before moving to the next, your beginning band will get off to a great start.
Rob Goade
Palen Music Center -- Liberty
[email protected]

Rob grew up in Granby, Missouri and attended East Newton High School. He holds Music Education degrees from Southwest Baptist University and Central Missouri State University (now UCM). Rob taught instrumental and vocal music for thirty-one years in Missouri schools. He served as Band Director grades 5-12 in the Morgan County R-2 School District, Versailles from 1977-1979, High School Band and Vocal Director in the East Newton School District, Granby from 1979-1985, and Band Director grades 5-12 in the Boone County R-6 School District, Centralia from 1985-2009. In addition to his position with Palen Music he is currently working part time as beginning band instructor at Smithton Middle School in Columbia. Rob has been married to his wife Terri for thirty-six years and they reside in Centralia, Missouri. They have three daughters, Rebecca Attaway, Amarillo, Texas, Mary Murphy, Kansas City, Missouri, and Deborah Goade, Centralia, Missouri. Close
---
Contact Your Local Palen Music Center Representative
Can we assist you with anything? Please contact your local Palen Music Center school road representative for all of your music education needs.