Monday, October 24, 2016
IN THIS ISSUE:
So how does your All-State Oboe player end up in Country Music?
Taming Your Young Low Brass Section
---
So how does your All-State Oboe player end up in Country Music? by Chuck Appleton
Sound familiar? Do you have any students that are strong musicians in your programs who thought their only option was music education if they had a passion for music? Let me tell you about a career in music publishing one of my music students took that has placed her as Creative Director for Word Country/Word Music Publishing.
(Information below from an article by Craig Rosen of "In Tune" magazine)
Performing for vast audiences in front of the cameras may seem like the most exciting way to play in the music business, but the music game with the biggest prize is often played in boardrooms in small writing studios, by songwriters in the business people who make up the world of "music publishing".

THE RULES: What is Music Publishing?
One of the most confusing things about the music publishing business is its name: in the days before recorded music, publishing referred to the business of printing and distributing paper sheets of music: a song became a hit when people bought a copy to play on an instrument and/or sing at home. The sale of printed sheet music still plays a role in the music publishing business, but the enterprise of creating, documenting, owning and lending musical compositions for use by others now includes all the forms of music distribution other than printing on paper, including audio recording. Yet the name from the print days is still in use. You may have heard the term "intellectual property". Intellectual property refers to a persons ownership of--and right to profit from--his or her own ideas. When you write a story, poem, or song, take a photograph, or draw a picture, you automatically own that work and control the rights to distribute it to others. That's the definition of a copyright. Legally no one has the right to copy your work without your permission. You can register this copyright with the government, but the right is yours even before you do so.
THE PLAYERS: Songwriters, Music Publishers and The Media
Owning a copyright is one thing, but it's not easy for a songwriter to actually profit from a song without some help. And that's where "music publishers" come in. The publishers two main jobs are to help find profitable use of the work, and to "administer"-- basically, look after and manage-- the copyrighted work of the composers, songwriters, and lyricists they work with. The first job is known as "placement" or "song-plugging". The publisher represents the writer and offers--or "pitches" in industry jargon--the right to use his or her work to potential customers. These include artists and repertoire (A&R) executives at record companies or "labels" who might want one of the "labels" artists to record the song and include it on an upcoming album. It also includes "music supervisors" who work for the film studios, TV production companies, ad agencies, or game developers, and might recommend the song for use in film, TV, advertisements, and video games.
THE PRIZE: Royalties
The most important job in the "music publishers" relationship with its client (songwriters and composers) is negotiating and collecting fees--called "royalties"--on behalf of the writer every time the work is used in a recording, in commercials,as TV or film background music, as a telephone ringtone, or in video games. Here's where things get a little complicated; there are several kinds of royalties, called mechanical, synchronization, and performance royalties each generates income from a different source. Without getting too detailed in this article, royalties paid to songwriters and composers through their music publishers for the use of their music in movies, TV, advertisements, and games is where royalties are generated. When you hear a song in a movie or TV show, the copyright owner-- which is the songwriter or composer--gets paid a royalty.
GETTING IN THE GAME: Jobs in publishing
Music publishers and Performance Rights Organizations (called PROs such as: BMI, ASCAP, and SESAC), track and distribute royalties tied to performances. They need a lot of employees with many different skills. They have accountants, lawyers, and technology experts, as well as "creative" departments that include A&R, and artist and member relations executives.
As Maurice Russell, vice president of licensing, collections and business affairs for capital HFA (Harry Fox Agency) notes: "You don't have to be a musician to work in the music business. If you're great at math you can work in finance or distributions and take what you're good at and do it in the industry."
According to Tim Fink, SESAC's vice president of writer/publisher relations, new technologies are generating more opportunities for composers. "If you want to go back a few years, streaming radio didn't exist." As streaming radio has become more established, it's generating more revenue through the license fees it pays PROs.
So you see the job availability for students with a strong musical interest are very wide open in the recording industry. I just happen to know a little bit about this since that All-State oboe player/music business major at Belmont University (2007), happens to be my favorite music student of all time, my daughter :-)
If you have students interested in other careers in music, please contact Janine Appleton. Here is her information:
Janine D. Appleton
Creative Director, Wordcountry/Word Music Publishing
WORD Music Publishing
25 Music Sq. West
Nashville, TN 37203
Direct Office: (615) 687-5740
[email protected]
You just never know where music may take you.........
Chuck Appleton
Palen Music Center -- Columbia
[email protected]

Chuck Appleton taught instrumental music for 33 years and retired in May, 2010. Chuck taught 23 years in Warrensburg, where he was director of bands and eight years in Dixon, MO. A native of Sedalia, Missouri, Mr. Appleton received his bachelor of Music Education degree from Central Missouri State University in 1979 and a Master of Music Education degree from Central Missouri State University in 1995. Mr. Appleton served as Band Vice-President for the Missouri Music Educators Association from 2006-2008. Mr. Appleton is also a member of MENC, Missouri Bandmasters Association, Missouri Association of Jazz Educators and Phi Beta Mu.
---
Taming Your Young Low Brass Section
by Bridgett Randolph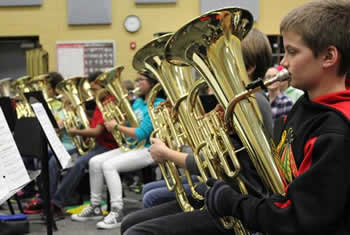 So you have recruited your rear end off and have a huge crop of beginning low brass students...now your job is to keep them! Low brass kids have a history of dropping out after the first year or two. You will hear a variety of excuses, but the real truth is they just don't want to do it anymore. If they did, they wouldn't drop out. So what is causing this? The simple answer is boredom. In the beginning, the low brass players are playing the same things as the flutes, clarinets, trumpets. Everybody is happy. Everybody is playing the melody. Then, you start to play more concert band music and the low brass section is no longer the same as everyone else. This is where you as the director have to step up and make sure that they feel appreciated.
Low brass players need to know that what they do makes everyone else sound better and even if they are just playing whole notes, they have to do it in a way that makes the trumpets sound better. You also have to give them some meat every once in a while. Low brass players know that they aren't going to have the melody all the time, but they should always have it at least once in a concert. Also, make sure that other pieces you play have "cool" background parts. These are the kiddos that get a kick out of hearing how their part fits in with everyone else.
Here is a list of pieces ranging from Grade .5 to Grade 2 that low brass sections have liked in the past. They are not all low brass features, in fact most of them are not, but they still have a good part. When planning for a concert, try and pick songs that each section in the band will say is their favorite. If you can get them evenly divided, bonus points! Happy (Almost) Concert Season!
12 the Clock Strikes by Rob Grice
Above the World by Rob Grice
As Winds Dance by Samuel Hazo
African Alleluia! by John O'Reilly
Alien Invasion by David Gorham (go Team PMC!)
Celtic Air and Dance No. 2 arr. Michael Sweeney
Daydreams by Robert Sheldon
Defender of Time by Rob Grice
Dr. ROCKenstein by Steve Hodges
The Eagle's Triumph by David Shaffer
Egyptique by William Owens
Equinox by Ed Huckeby
Free Spirit Overture by Jerry Williams
Flight of Eagles by Elliot Del Borgo
Gypsydance by David Holsinger
A Joyful Journey by Robert Sheldon
Just a Closer Walk with Thee arr. Johnnie Vinson
Kachina: Chant and Spirit Dance by Anne McGinty
Legend of the Eagles by David Shaffer
From the New World (Suite) arr. Michael Story
Night on Bald Mountain arr. Michael Sweeney
Primordium by Mark Williams
Procession of Heroes by Robert W. Smith and Michael Story
Rites of Tamburo by Robert W. Smith
Shackelford Banks by Jay Bocook
Shine by Rob Grice
Spirit of the Wolf by Michael Oare
Superheroes R Us arr. Michael Story
Swahili Folk Hymn arr. Kevin Mixon
Turbo Rock by Michael Sweeney
Tyrannosaurus Rocks! by Mike Hannickel
Union March by Mekel Rogers
If you are looking for a finale that will allow all of your middle school groups to play together check out "Highlights from 1812 Overture" arr. Robert Longfield. On this arrangement, your older students can play the "meat" of the piece and you can purchase grade 1 and 2 supplements for your younger players!
Bridgett Randolph
Palen Music Center -- Columbia
[email protected]

Bridgett Randolph received her B.M.E. from Central Methodist University and her M.Ed. from William Woods University. She has taught instrumental music for the last 18 years with the latter 10 years in the Columbia Public Schools. Bridgett also taught high school and middle school at Orrick R-IX, Mid-Buchanan R-V, and Southern Boone R-I school districts. Bridgett is a member of MMEA, NAfME, MNEA, MBA, and Phi Beta Mu. Bridgett has performed with the Columbia Community Band, Columbia Civic Orchestra, Memories Dance Band, Capitol Kicks Dance Band, Ray Auburn Big Band, and Kerry Strayer Big Band. She is active as a clinician and adjudicator and enjoys playing in big bands and community ensembles so give her a call if you need a trombone player! Bridgett currently resides just outside of Columbia, MO with her husband Mark, and their two wonderful children Olivia and Logan.
---
Contact Your Local Palen Music Center Representative
Can we assist you with anything? Please contact your local Palen Music Center school road representative for all of your music education needs.