Monday, November 28, 2016
---
Contest and Festival Music Selection
by Rob Goade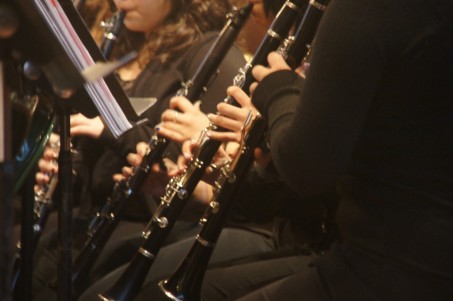 With marching season in the rear view mirror for most of us, it's that time when we switch gears and start planning for concert band performances. For me, selecting music for concerts and music festivals was one of the most enjoyable and yet challenging tasks of the year. How do I find quality music that is both appealing and interesting to performers and audiences (including judges) and still make sure that it challenges the musical skills of my ensemble (while remaining within the abilities of the less advanced members).
Of all the programs we prepare for, I think most of us would agree that selecting music for state contest performances is one the more daunting tasks we face each school year. Whether you select an overture, chorale or march, and regardless of whether you choose a classic standard or a new work, there are basically three questions you should ask yourself.
1) Is this selection appropriate for contest/festival performances?
Many states have required (or suggested) graded lists, which makes the answer to this question a simple one. Hopefully, for those of us who don't, we will not simply pick the hottest new thing off the press (relying on it to be unfamiliar to the judges, so they spend most of the performance trying to follow the score). If we want contest to truly be an educational experience for our students, then we should take this opportunity to introduce them to some of the standard literature for our grade level band. Resources such as "Teaching Music Through Performance" Volumes 1 & 2 (Chicago: GIA Publications) provide an excellent resource to find quality graded literature for concert band. If you are in doubt as to whether a work you are considering is suitable for contest performance, don't be afraid to consult trusted colleagues.
2) Does this selection showcase the strengths of my ensemble yet remain within the ability levels of all performers?
A considerable amount of thought should go into this decision. Evaluate the piece in regard to instrument ranges, key signatures, time signatures, rhythms, meter changes, tempos, articulations. The technical demands of the music should be well within the capabilities of the average members of your ensemble. Make sure solo or soli sections feature strong members or sections of your ensemble. Instrumentation is another important factor. Make sure you are able to adequately cover the divisi sections with good balance and blend. (If you only have three clarinets and the selection calls for three clarinet parts you may run into issues with balance and blend). For bands with limited instrumentation this can be a big challenge, but fortunately there are some excellent 'flex-band' arrangements available that help address this issue for small bands. The piece you select for contest or festival performance is not a good vehicle for teaching technical skills ensemble members have not already mastered. Use warmups, chorales, scales, and exercises to develop these technical skills and then choose music that showcases the skills your ensemble has achieved. If your first read through of a piece you have selected requires numerous stops and starts just to get through it, then you have probably set your sights too high.
3) Do the musical demands of this selection fit into the time frame I have to prepare for the performance.
It's a good idea to set a time frame for contest or festival preparation. Most generally you will be programming two to three selections. You probably want to have at least four to six possible selections in the folder and spend a week to two weeks reading through all the selections. By then you should be able to settle on which pieces best fit your ensemble and will make for a varied and musically appealing program. From that point, six to eight weeks of rehearsal (providing your group meets daily) should be more than adequate to prepare for your performance. Start by identifying the sections of each selection that present the biggest challenges technically and/ or musically and determine how much rehearsal time will be required to address them. Don't be afraid to leave some of the easier sections alone for a time and strive to put it all together so it peaks at performance time.
Selecting music to prepare for contest and festival performances can be a very stressful task, but if you develop a systematic approach it can become a very satisfying experience for you and your ensemble.
---
Contact Your Local Palen Music Center Representative
Can we assist you with anything? Please contact your local Palen Music Center school road representative for all of your music education needs.