Monday, January 16, 2017
---
Not Oh, Recruitment but OOH!!!, Recruitment!
by Troy Bunkley
What's Next?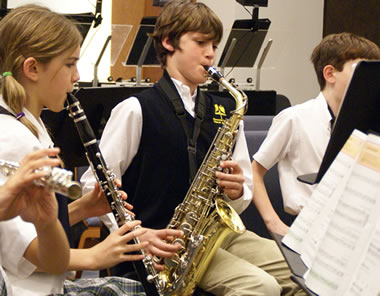 Ok, so you have all your contest and concert literature selected, solos and ensembles are outfitted and ready to go. Your calendar is all set and the Boosters are cruising on funding the program (dreaming). Smiles abound in the Band office and at home. Wait, what about recruiting? Oh, recruitment...
You need change that oh to an excited and enthusiastic OOH!!! That expression used to communicate the "I can't wait until I get to..." feeling. Remember that the recruiting process is as important to the success of your program as any other aspect. If you refer to your program as "your baby", recruitment is the pre-natal vitamin that will make "your baby" strong and healthy. The time and effort put into recruitment will reward the program many times over.
I have just a couple of reminders to help with recruitment. This is not a how-to-list, but points of emphasis and suggestions. Every program is different and recruitment needs to be an adaptive and fluid process to meet personnel and instrumentation needs and limitations.
Start your recruitment process with gathering of names and contact information for everyone involved. Principals, secretaries, janitors, classroom and music teachers all will be aiding you in bringing kids to your program. Contact them early with dates and information needed for recruitment concerts, building visits, mouthpiece tryouts, student assessment and recommendations. These team members will appreciate your organization and be more willing to help you if things are forgotten or help is needed at the last minute.
Have all your paperwork prepared, copied, and separated in a manner that makes distribution quick and efficient. Have the recruitment packet ready for easy delivery and return to you. If you have moved beyond paper, make sure your website or online form has accurate and detailed information for the student and parents. Regardless of your method of recruitment information gathering, make sure to provide your email or phone number for parents to contact you with questions. Respond to any inquiries quickly and with a smile in your voice and a positive tone.
Here are a couple of other helpful ideas for preparing for recruitment:
If you are lucky and get to have recruitment concerts or demonstrations, don't pull any punches. Make sure you give the audience the most energetic and enthusiastic concert you can prepare. This should be a fast moving and rapid-fire type of programming. Remember that the audience you want to impress wants to tap their feet and nod their heads to your music. Pep Band tunes, movie themes, and high energy music goes a long way in peaking their interest. You can play the other types of music, but consider using only shorter excerpts instead of full versions.
The other part of the performance that you must keep in mind is that you are auditioning for the recruits as well. They want to see your positive energy and smile. Kids want to see how much you enjoy Band equally as much as seeing the band members enjoying performing. Turn around and face the audience as much as possible with the biggest grin on your face that you can generate.
Get to know your recruiting class. Gather as much information regarding the prospective band members as you possibly can. The classroom teachers and music teachers are good sources of background information. But don't rely solely on their history. As we know, kids change when they become band members. Try to have some kind of individual interaction with each student to be sure that they can work with you and your classroom. Keep an open mind and open door to allow all that wish to enter your classroom that opportunity. Some of the most fulfilling and positive stories have come from those kids that "shouldn't do" Band.
Every Band program will have its own set of needs and issues with regards to instrumentation. Keeping those in mind, do your best to distribute your talent pool as evenly as possible. Loading all your strongest academic students in one or two sections will make teaching those sections very easy. But the challenges of getting the other sections moving forward may end up holding even the strong sections back. Try to place 1-2 of the strongest recruits in each section to help provide models for the other beginners. Talent distribution may not always work or be possible because of limitations in your talent pool, but it is a great goal and starting point if it can happen.
Directors that place emphasis on recruitment understand the great benefits to their band program. Creating interest in your program thru well-planned and organized recruiting will only bring positives to your Band. These reminders will hopefully help to change the dread of recruiting to the "OOH!!!" of recruiting.
Note: Want more information? Check out a publication from NAMM called "A Practical Guide for Recruiting and Retention". We made a PDF available by clicking this link. It is loaded with additional helpful tips and tricks along with advocacy materials and resources. Good luck!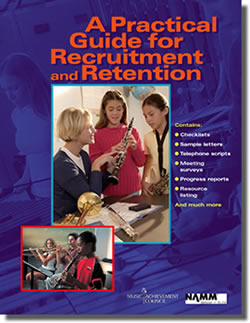 Troy Bunkley
Manager - Palen Music Center St. Louis
[email protected]

Troy Bunkley is currently the Store Manager and Road Representative for Palen Music Center in St. Louis, MO. He retired from teaching in 2016 after 31 years in the classroom. He was Director of Bands at Washington, Poplar Bluff and Fredericktown in Missouri. He is a past Band Vice-President for the East Central District of the Missouri Music Educators Association. He is a member of Phi Bet Mu International Bandmasters Fraternity, Nation Association for Music Education, and Missouri Music Educators Association.
---
Contact Your Local Palen Music Center Representative
Can we assist you with anything? Please contact your local Palen Music Center school road representative for all of your music education needs.