Monday, January 30, 2017
---
The Golden Music Stand by Mary Lollis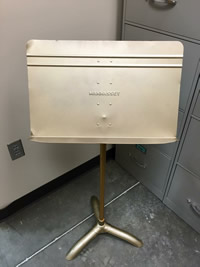 Pinterest. When I have a moment to breathe during our brief but much-needed two months of summer vacation, I'll sometimes mindlessly scroll through and see what's trending. It is therapeutic and seems to be mostly haircuts, house renovations, and puppies. Like I said -- mindless. However, last summer I came across an idea that I loved, stole, and decided to try in my beginner clarinet class. It is the golden music stand. (Cue harp and singing angels).
It's a simple concept and one that seems to work well with my students. The golden music stand (an older stand that I took home and painted gold) is given to a different student every day. I wait until the end of class when students are swabbing to announce who will use it the following day based on what I've seen that day during our rehearsal. It's been given to students who are punctual and always ready when class begins. I have given it for best posture, best counting, or best attitude. Some days, we vote as a class for who might receive it the following day based on tone production or overall performance for that particular day.
The students have bought into the idea and seem genuinely happy when they are deemed "worthy of the stand." I've also used it to reward students who show outstanding character. One in particular found himself in a situation where he needed to tell the truth. Knowing he had been struggling with these kinds of issues, I was thrilled when he did the right thing by being honest. I was so proud of him and let him know he would be using the golden stand the following day based on his integrity. This happened in the hall after class and was still a great teaching tool for the classroom. It's been surprisingly successful and something that I've seen work especially well with my 6th grade beginners. They are eager to please and love positive feedback -- especially in the form of this tangible reward.
Practically speaking, the more layers of gold spray paint -- the better. I painted a few for our other directors and as I ran out of paint, the end results were a bit greenish because of the black underneath. The "prettier" the better. The students really do want to use it because it looks so special and different. Another helpful tip is that I painted the desk and feet but used gold duct tape to wrap around the stand. It was much easier and the results were great. I'm very much into borrowing and stealing ideas for the classroom and it's precisely what I did in this case. It's been successful for my kids. I hope this gives you some ideas to encourage your students and maybe spur new ideas of ways to incorporate it or other incentives in your particular set-up.
Mary Lollis
Band Director - Tulsa Union Public Schools

Mary Lollis is in her eighth year at Union where she teaches beginning clarinet, 7th and 8th grade bands, and leads Concert Band 1 at the High School. She has also taught band in Arizona and in the Edmond and Jenks public school systems.
---
Contact Your Local Palen Music Center Representative
Can we assist you with anything? Please contact your local Palen Music Center school road representative for all of your music education needs.