Monday, March 13, 2017
---
Ten Stress Relief Tips for Band Directors
by David Law
After a while, the constant grind of preparing for concerts or organizing other events and rehearsals wears a person down. As a band director you need to find a way to keep your spirits up and your passion for music education alive. Read on to learn ten great tips to help you keep your chin up and the fire burning.
Here are some simple suggestions to help band directors renew their spirit and passion for teaching music.
1. Delegate. A student can take attendance and fulfill many other tasks as well. Even if they are not done to your standard they will be done, and not everything needs to be done to the highest order of perfection.
2. Take a different route to work each day. Variety is the spice of life.
3. Rely more on your parent organization if you have one. They too can take many of the smaller tasks of your list of things to do. Small tasks can eat up just as much time as big ones!
4. If you eat at your desk occasionally go to the teacher's lounge. It is good to not become isolated and become a recluse. Not only is it good for the other teachers in the building to know that you exist but you can gain refreshing insights into students and other faculty members. Often there is time for a good laugh and that can make the day go smoother.
5. Meet and greet your students at the door as they come into the band room. Give out more compliments and smile. Just the act of smiling improves your personal outlook and a smile can become infectious.
6. Let your students sit in different spots during rehearsals. This is an excellent way to work on blend and precision. The students will enjoy the change and if you can see past the tubas (who usually run to sit in the front row) you may also enjoy the change.
7. Schedule time for your wife and family. I know this sounds obvious, but if you don't put it in your planner you can easily overlook this time to decompress and fill it with yet one more thing that needs to be done for the band program.
8. No one, on their deathbed, ever wishes that they had spent more time in the office. A little quiet time can work miracles. Find that quiet spot and read a book (not a professional journal) go see a movie or just watch a sunset. Even five minutes makes a difference.
9. Take time to get in touch with your own spirit. Through church or inspirational readings it is important to reconnect with that "spark" that got us interested in music, kids, and life.
10. Go to professional conferences. Take the time off and get away from your school. You, your program, and your kids will be better off for the time you spend at the conference.
| | |
| --- | --- |
| | David Law is the retired 7-8th grade band director at Vernon Middle School in Marion, Iowa. He is a National Board Certified Teacher and a member of the Music Educator's National Conference, Iowa Music Educator's Conference serving as -- Past President, Iowa Bandmasters Association -- Past President, Northeast Iowa Bandmasters Past President, Association for School Curriculum Development, National Education Association, Iowa State Education Association, and Marion Education Association -- Treasurer, and the Iowa Alliance for Arts Education -- Chair. In 200,4 he was selected as the Educator of the Year from Linn County and in 2011 was selected at the Karl King Distinguished Service Award winner from the Northeast Iowa Bandmasters District. He is the founder and conductor of the Marion Community Bands. In 2015 David was inducted into the Marion Performing Arts Hall of Fame. |
---
Pictures from the Classroom - Windsor, MO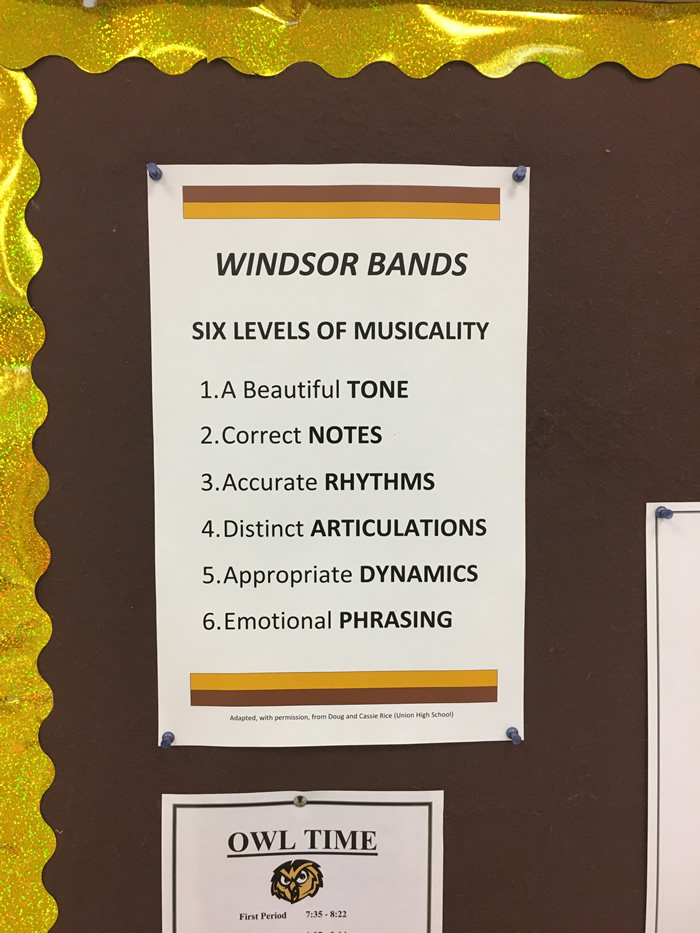 ---
Contact Your Local Palen Music Center Representative
Can we assist you with anything? Please contact your local Palen Music Center school road representative for all of your music education needs.