Monday, March 27, 2017
IN THIS ISSUE:
Call it "State Music Assessment" | More Than Music
---
Hint: Call it "State Music Assessment"
Editor's note: I picked up a brilliant idea from one of our Missouri directors this week. I wish I would have thought of this during my teaching career! Below is the suggestion and the submitting director wished to remain anonymous.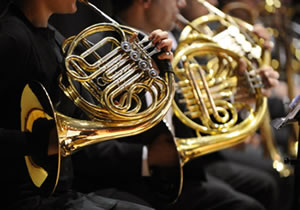 I used to hear grumblings from teachers in my building for pulling kids out of class to attend state music assessment. The reason had a great deal to do with the fact that I called it "concert band contest". Once I started referring to it as state music assessment, it took on a completely different feel. Calling it the SMA's holds a ton of weight with my school who doesn't take festivals and contests as seriously as "assessments". Since I began calling it our State Assessment, we are allowed to pull kids from other classes for sectionals and individual help. The school now holds our date sacred, because, you know, it is not a contest or festival, but THE state music ASSESSMENT. I'm encouraging everyone to refer to it accordingly.
---
More Than Music by Mike Steffen
We all know the benefit of our students getting to know one another better. Not only will it lead to more camaraderie (and better retention) in the group, but the bonds they form in social settings can carry over into the rehearsal room and onto the field or stage, leading to more engaged and passionate performances.
I sent out a request for ideas on how folks increase connectivity in their ensembles. I received some fantastic ideas. One director noted in his response, "Band is a group activity and fostering positive relationships is a key component to making a great ensemble." As you continue to plan for next year, I encourage you to check out these examples of social events that you (or your boosters) might consider. Thanks to the many directors who contributed ideas!
Pizza & Movie or Game Night
Trip to a local amusement park
Professional sporting event
Student-led sectionals in summer (one must be a social activity)
Service project day for the band
Halloween party -- "It takes the place of our last evening rehearsal."
Water balloon fight
Go on a bike ride or hike
Bowling or Laser Tag
Section leader/Senior BBQ at someone's house
Summer movie nights outside at the stadium, with blankets/sleeping bags, lounging on the field
Band Awards Banquet (fall and/or spring)
Swimming parties or a day at the lake
Dinner & Movie before pep band game
Stream DCI Finals free for the kids at the end of camp.
Hot dogs and hamburgers at the local park with jazz band performing
Ice cream social after the last day of summer camp
Lock-in at Incredible Pizza, YMCA, etc.
Trip to the Corn Maze
Band Olympics -- silly outdoor games (usually messy)
8th Grade Band Spring Trip
Combined MS/HS performances
Celebrations the day after concerts (parents send in snacks & treats)
Encourage beginners to go over to each other's houses and practice together
Rent out the community center. "We would swim, have volleyball, dance, basketball, dodgeball tournament. In the pool, we would set up basketball goals, etc. We had a food room with burgers, dogs, chips, desserts, etc."
"At the end of our band camp, we always had a picnic in the park. Boosters would cook burgers and dogs. We had lots of organized games, and even a talent show. The parents were invited, as well. My Boosters took the opportunity to have volunteer sign-up sheets for the entire year. They also sold Booster t-shirts and bumper stickers. It was a great time for the students (and directors) to kick back after weeks of hard work."
When folks were asked "Why is this important?", here are some responses I received:
"Kids need to be kids and learn to socialize with their peers. Yes, they work together within their own sections, but the opportunity to expand their circle in a social setting is very powerful. Their strong friendships help them keep each other accountable: attendance, behavior, and performance."
"Kids remember the time you spent with them...[they] may not be able to tell you what they played...[but they'll] always remember how you made them feel."
"I think [band/orchestra/choir] is more than music. It is family and we want kids to want to be a part of it."
"It helps develop a comfort level between upper classmen and lower classmen and leads to more camaraderie."
"It's very important to develop the family side of the group. Kids work harder for each other than they will for you."
What are some activities you do with your program? Email them to me and we may include them in next week's Quick Note! My email address is [email protected].
Wishing each of you a fantastic end to the school year!
Mike Steffen
Educational Representative
Palen Music Center - Liberty
---
Contact Your Local Palen Music Center Representative
Can we assist you with anything? Please contact your local Palen Music Center school road representative for all of your music education needs.