Monday, October 23, 2017
Percussion: Back-To-School Tips
Getting our musical muscles in shape (or back in shape after a break) is a must with percussion students, just as it is with wind players.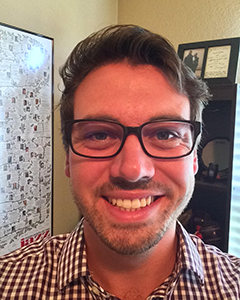 It has been a good two months of swimming in the pool and eating hot dogs at grandma's house...at least that's what my summers looked like as a young musician. I certainly don't recall unpacking my bell kit to play through my scales or reviewing my stick control patterns on my practice pad when I could go swimming with friends instead. Getting our musical muscles in shape (or back in shape after a break) is a must with percussion students, just as it is with wind players. For returning students, the best way to shake the rust off would be to never let it accumulate in the first place, but that is just asking a lot...
First-Year Percussionists
For beginning percussionists I would recommend focusing on only a few key concepts for the first year. For my particular schedule, in which I see my beginning students every other day, the main concepts for the year are to understand the technique, know basic stroke types, understand and count rhythms through basic sixteenth note variations, know basic rudiments, be able to sight-read mallet music at the appropriate level, know major scales, and, above all else, be able to play in time with a good understanding of pulse.
There are many details within each of these basic concepts. For example, teaching the desired grip and stroke will take a good amount of time with very specific instructions for each student, as hands vary. There are certainly different opinions on grip and stroke. My preference is to have all fingers on the stick and to use a piston stroke with emphasis on the wrist only. Once students are comfortable with the piston stroke I believe they'll find it easier to learn other strokes; I have found this order to work better than trying to implement a piston stroke for speed later down the road.
Many mistakes in the grip will be present when the students are first learning, so it is imperative that the teacher not allow any bad habits to form. This requires constant inspection and reminders of the grip and stroke pretty much for the whole year, at least on the block schedule that I deal with. For mallet playing I have my students use the same grip and stroke as with snare drum. Here the piston stroke aids in note accuracy because mallet instruments do not provide rebound.
Returning Percussion Students
Naturally, students will need to build back their technique as well as their knowledge base. At the younger age level, review of material and technique is just unavoidable. As you probably already know, we can count on reliving the last quarter of instruction before summer break for at least the first couple of weeks of school. Hopefully the second time around it goes quickly and efficiently. The young percussionists should focus on large, legato strokes to engage the muscles that have been stagnant. In recent years, I've found that warming up to a song or programmable drum set grooves makes the process much more enjoyable and engaging for young percussionists. This in combination with reviewing stroke types (such as up, down, etc...) will be plenty for the technique side of things.
In addition to getting the hands moving again, I would recommend having young percussionists review all of their scales as well as start reading keyboard music ASAP. I have found that reading music is NOT like riding a bike. It is much more like working out, whereas the longer you go without doing it, the harder it is when you come back to it. (not that I know about working out...)
If the percussionists are in their own class, all of this is very doable. If they are mixed in with wind players, it can be hard to make sure they are being productive in the sense of technique. Sight-reading keyboard parts along with wind players is great, assuming the music is not too easy.
As for the technique building on pads or drums, it is important to have the percussionists playing something that is beneficial to their hands or reading skills. Music written to accompany wind warm ups often does nothing to enhance the percussion technique. I would recommend implementing some legato 8th's or similar to accompany long tones (just as one example). A metronome behind the percussionists will ensure that the pulse stays consistent and will aid in ensemble pulse, as it is typically established by the percussion section in the back.
I hope these tips help you start the year out right!
| | |
| --- | --- |
| | Nick Fernandez is the director of percussion at Bentonville Public Schools in Bentonville, Arkansas, where he teaches percussion students from 6th grade through 12th. Previously, Nick served as the director of percussion at Owasso Public Schools in Owasso, OK. He has performed with the Colts Drum & Bugle Corps, the North Arkansas Symphony Orchestra, Tulsa Signature Symphony, and various local bands in the Tulsa and Northwest Arkansas areas. |
---
From the Bandroom - Mound Valley, KS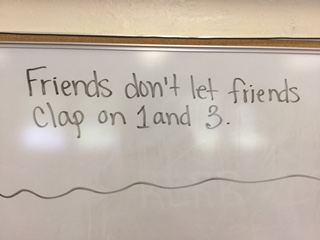 ---