Monday, December 11, 2017
Taking the Trepidation Out of Contest Preparation
Beware of selecting that piece you have always dreamed to play, as the stress of preparing your band for contest may not mix well with the emotions tied to your favorite piece of wind band literature.
Large Ensemble Festivals/Evaluations will be upon us before you know it. And, if you teach in the St Louis metro area, you may find yourself taking the stage for MSHSAA Festival at the end of February! If you have co-curricular marching band that lasts through the first semester, you may not actually get to hear your second semester group until January! Friend...I understand completely and I sympathize. These are the circumstances I encountered while teaching the 2nd band at Rockwood Summit High School in Fenton, MO. Even if you don't have to be ready for the stage until later in the semester, here are some things that helped me get through (and even enjoy!) the process.
Contest Participation Philosophy
What is your motivation for taking your band to contest? Is it required by your district? Is it an expectation of the parents and students in your program, as evidenced by rows and rows of plaques that line your walls? Do you go to get the feedback from the judges? Do you go so that your students can hear the judges tell them the same thing you do, thus proving your self-worth as a director? Is it "what's always been done?"
Your motivation for taking your students to contest will color everything about the experience. This includes your attitude about the festival and how you speak about it to your students, the time that you are willing to spend outside of class prepping for it, and the amount of stress that you put on yourself to "get a 1."
Early in my teaching career I certainly felt like there was something I had to prove by taking my kids to contest. By the time I got to Summit, however, my philosophy had changed and I simply wanted to provide my students with an educational performance experience and the opportunity to perform in a venue other than our school's gym or auditorium.
Literature Selection
Choose music that fits your band. Depending on when contest falls within your school year, it may not be the right time to challenge your low brass or reinforce 6/8 time. Instead, it may be the perfect time to give your ensemble an opportunity to work on balance and blend. Beware of selecting that piece you have always dreamed to play, as the stress of preparing your band for contest may not mix well with the emotions tied to your favorite piece of wind band literature.
I also believe that it is important to always have a piece in your band's folder that can be performance-ready quickly. Our self-esteem as musicians is most-closely tied to how we sound, both as individuals and as an ensemble. Even if it is short, a piece that does not require hours and hours of measure-by-measure rehearsals can really boost your group's self-esteem, which may result in more effort on the other pieces you have selected.
Play a march, or not? Sometimes, this can be the question that causes the most stress! If your state does not require a march, the answer can often be found in objectives laid out in your curriculum for the semester. Do you need to focus on matching style and articulation, or working to achieve more dynamic contrast as ensemble? If so, a march could be a great way to work on these concepts.
Sight-Reading
If your state does not require sight-reading, congratulations! You can skip this section and spend more time doing score study! If you do have to sight-read, congratulations! You get the exhilarating experience of performing music for a judge with only a few minutes of rehearsal time. Here are some tips for maximizing your sight-reading time without sacrificing more rehearsal time than is necessary.
See if your Palen rep can give you another set of folders that are just for sight-reading. You only need one per stand, not one per player. As first semester winds down and you have a little bit of extra time after your last concert, pull 6-10 pieces from your library that would be appropriate to sight read. If you have access to a colleague's music library, this could be a good opportunity to borrow some pieces your students will be unfamiliar with for sight-reading purposes.
Recruit a few student librarians to help you stuff the folders with the sight-reading music. If you do this ahead of time, you won't be scrambling to find sight-reading material the week before contest. After you read the piece, have your first chair players collect and organize all the music from their section. Collect it from them and score order and that piece is ready to file away. By the time contest rolls around, your folder should be empty and all of your pieces will be ready to put back in the library. After my kids were trained on this process, we would be able to complete a sight-reading in 8-10 minutes of class time.
Here are a few additional resources I have used or have seen other directors use to help with sight reading:
The Sight-Reading Book for Band

by Jerry West (4 volumes worth of sight reading...each volume is for a different level of band)

Sightreading 101, Sightreading 201, Sightreading 301

by Ed Huckeby (great visualizations of subdividing notes--rhythmically focused)
UIL Band Sight-Reading 2006-2015 (graded, full sets-score and parts of the last 10 years of band sight reading titles used in the Texas UIL Concert and Sight-Reading contests...these sets are pricy, but comprehensive!)
www.sightreadingfactory.com (cloud-based, subscription service allows you to customize and generate unlimited sight-reading examples instantly, on-demand...a brilliant tool!)
Planning Your Rehearsals
Although the process used to plan rehearsals in a concert cycle could be an article on its own, I'll stick to the basics here. After selecting my pieces, I would do a thorough form-analysis of the piece, defining the different musical sections and breaking down the embedded performance concepts. Then, I would lay out all rehearsal days on the calendar and select what sections of the music needed to be focused on each week.
This visual layout of the rehearsals helped me make sure that we were starting with the toughest parts of the pieces and the passages that I knew would take the most work (it also helped me make sure we never completely ignored a section). I could lay out exactly what days I wanted to sight-read and make sure I had enough material ready. I could better prepare for bringing in clinicians, knowing exactly how much of each piece we would be through and where I wanted them to focus their expertise. I also could let my ensemble know what parts of the music we were going to be working on each week, so they could focus their practice time on our ensemble goals.
I also always tried to have my group concert-ready 3-5 class days before the performance. This gave me some buffer time, should we need some more rehearsals to sight-read, have an unexpected snow day, or had to miss the rehearsal because the pep band must play at the underwater hockey state championship. Each day I had a rehearsal countdown on the board (28 Rehearsals Until Contest/Spring Concert, etc), which I felt helped keep us motivated. If you already have a rehearsal planning technique that works...great! If you don't, I encourage you to start being intentional with your rehearsal prep and class time by having a plan!
Alternative Performance Opportunities
No matter how carefully a project is planned, something may still go wrong with it. Sometimes, there's a "snow-pocalypse" followed by 10 snow days in a row, or your French horn section gets braces, or your percussion section is ineligible. Whatever the reason may be, if taking your students to an evaluative contest or festival will not be an educationally beneficial experience, pull the ripcord and do something different.
One year, after a snow-pocalypse, I decided not to go contest. Instead, I scheduled my own "contest" a few weeks later. I hired a few judges and we performed. I provided the parents with a detailed explanation of how we are evaluated at such events and I copied the score sheets and put them in the program. I had a dear friend select a piece for us to sight-read. At the end of our performance each judge gave a short clinic. And, we all learned that the only thing more terrifying than sight-reading in front of a single judge is sight-reading in front of a large crowd! It turned what could have been a negative performance experience into a self-esteem boosting event for my kids.
Best of luck with your upcoming contests, festivals and concerts!
| | |
| --- | --- |
| | Becky joined the Palen Music Center team in June, 2016. Prior to that, she served as Assistant Band Director and Woodwind Specialist at Rockwood Summit High School and Rockwood South Middle School where she conducted the Concert Band, Woodwind Choir, Pep Band, and Beginning Woodwinds. She also assisted with the award winning Rockwood Summit High School Marching Band. Throughout her twelve year career, Becky also taught in the Webb City Schools, Webb City, MO; Collinsville High School, Collinsville, IL; Mater Dei Catholic High School, Breese, IL; Dover Plains Middle High School, Dover Plains, NY; Arlington High School, Lagrangeville, NY. She taught numerous marching bands and winter drumlines and was on staff with the Colts Drum and Bugle Corps in 2004. Becky received a Bachelors Degree in Music Education from Illinois Wesleyan University, Bloomington, IL in 2004 and a Masters Degree in Music Education from the University of Illinois at Urbana-Champaign in 2009. Her most notable performing experiences include winning the Concerto-Aria Competition at Illinois Wesleyan and performing with the Phantom Legion Drum and Bugle Corps and Colts Drum and Bugle Corps. She remains active as a clinician, designer, and drill writer for programs throughout Illinois and Missouri. She resides in Fenton, MO with her husband, Jason; sons Jace and Grayson; and black lab, Cole Porter. |
---
From the Bandroom - Norman North HS (OK)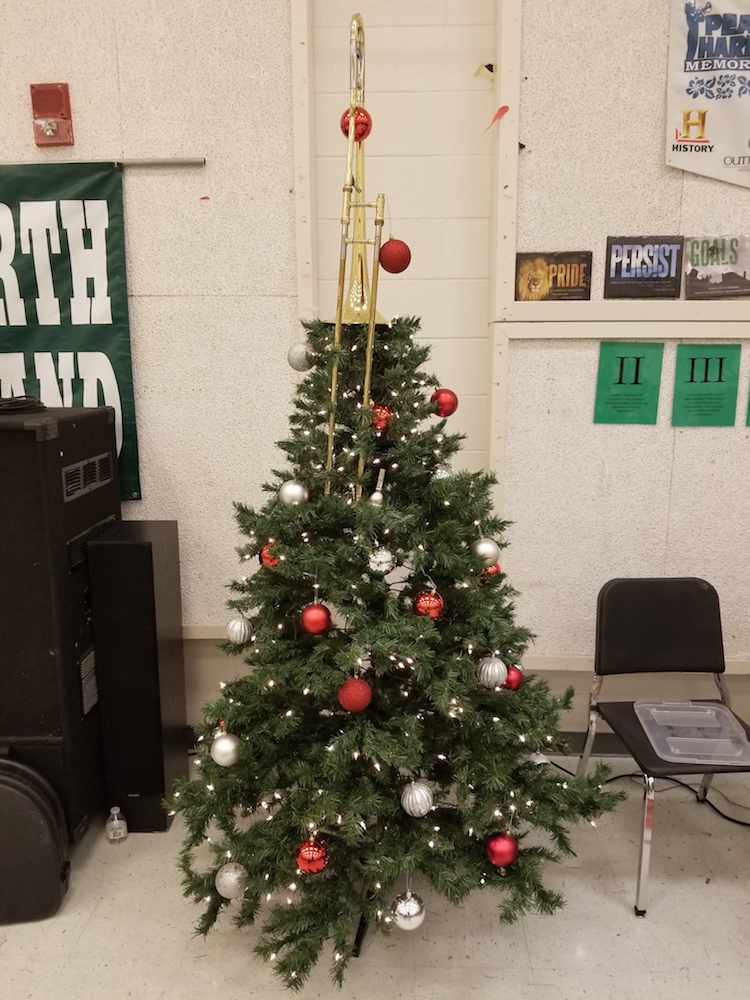 ---