Monday, April 23, 2018
IN THIS ISSUE:
---
"Prospecting for Percussionists"
Attempting to determine which few select students have the greatest propensity to becoming successful percussionists from the vast number of excited and hopeful prospects can be a daunting task.
Many instrumental music programs have already begun recruiting for next year's beginning classes. After the recruiting concerts, directors will soon be hosting instrument testing events so prospective students can be evaluated and matched to an instrument. One of the most popular instrument choices is percussion. Unfortunately, percussion is typically one of the most selective instrument groups due to the relatively small number of members needed in the section. Most programs have an established criteria for assessing prospective percussionists, some even taking into account the student's grades, pitch sensitivity, and piano experience. The most common method used to predict a student's future success as a percussionist is evaluating the child's natural sense of coordination. Below are some examples of exercises you can use to prospect for potential percussionists.
1. "Can you pat your head and rub your tummy at the same time?"
This is a great icebreaker and helps the student relax. Whichever way the student chooses to try it first is using their most natural coordination. Ask them to switch their hands and try it the other way.
2. Hand-to-Hand and Hands-with-Foot Coordination Skills
While sitting, have the student tap their right foot to an established beat. (quarter = 66-76) Then, while continuing to tap their foot, have them pat their right knee with their right hand on the downbeat. Pause and bring attention to the down-up directions of their foot tap. Resume foot tap and see if they can pat their knee on the upbeat. Another option is right foot tap with left hand pat on left knee.
3. Paradiddle & Double Paradiddle
Using a practice pad or drum, have the student play the sticking patterns with sticks. (quarter = 90-110) During the first pass, have the student play while tapping their foot on every downbeat. On the second pass (3b/3d), ask the student to play while tapping their foot on every other hand "note." Anticipating a limited understanding of music notation, you can enlarge the examples below or create your own diagram. These exercises may require some additional explanation and even a brief demonstration.
R=right hand, L=left hand, B=both hands, X=foot tap
Paradiddle
3a
R
L
R
R
L
R
L
L
R
B
R
R
L
B
L
L
3b
X
X
X
X
X
X
X
X
Double Paradiddle
3c
R
L
R
L
R
R
L
R
L
R
L
L
R
L
B
L
R
R
L
R
B
R
L
L
3d
X
X
X
X
X
X
X
X
X
X
X
X
4. Rhythm Recognition
Play a four-beat rhythm and have the student play it back. Play 3-4 different rhythms, simple to slightly more complex. Rhythms incorporating an eighth-and-two-sixteenths and/or two-sixteenths-and-an-eighth require a discernible ear and attention to detail. Lastly, invite the student to play a rhythm for you to play back. Similar to beginning with "pat your head - rub your tummy," this ends the "tryout" in a friendly, informal manner and helps the student forget the difficulties they may have experienced with the more challenging elements.
Attempting to determine which few select students have the greatest propensity to becoming successful percussionists from the vast number of excited and hopeful prospects can be a daunting task. Some research points towards including personality traits, timbre preferences, gender, and parental influences in the decision-making process. The ideas and examples above are far less "scientific," but a student's sense of coordination should be taken into account as a reliable predictor of at least initial success as a percussionist.
| | | |
| --- | --- | --- |
| | | Kale White retired from band directing in May 2016 to join the Palen Music Center team. He was a band director in Oklahoma for 27 years, having taught in Purcell, Owasso, the Putnam City schools in OKC, and the last eighteen years in Jenks. He earned his BME and MME at the University of Oklahoma. He is a member of the Oklahoma Bandmaster's Association, Oklahoma Music Educator's Association, and the Percussive Arts Society. |
---
Meet the Team
Up Close With...
Carl Spaeth
Broken Arrow Sales
How long have you been with PMC, and what brought you to the company?
I joined Palen Music Center in September, 2017. I had recently moved back to Oklahoma to be closer to family and needed a supplemental income. I wanted to stay involved in music education somehow while teaching at universities part-time and continuing to pursue entrepreneurial opportunities.
Where did you grow up? Musical family? Professional background?
I grew up in Harrah, Oklahoma. My brother, Erich Spaeth, is a music educator and percussionist in Bentonville, Arkansas. I earned my Bachelor of Music Education from Southwestern Oklahoma State University in 2008 and then taught 5th-12th grade band in Fairview, OK for 1 year. Then, I earned my Master of Music from Oklahoma State University in 2011 and earned my Doctor of Musical Arts from University of Kansas in 2014. I was Instructor of Saxophone/Jazz at South Dakota State University 2014-2017. I've taught 1500+ online lessons since 2013. Since moving back to Oklahoma, I've had the privilege of teaching part-time at Oklahoma State University and the University of Tulsa.
Any pets?
I had 7 fish from Walmart for over 3 years, and they all decided to die within a week just last week. Oops--don't tell my kids!
Any interesting hobbies?
Like many musicians/educators, I bury myself in work and lie to myself about claiming to have hobbies. I enjoy all things Star Wars and try to golf about once every 1-2 years. I dabble in composing jazz, various recording projects, practice saxophone, and binge-watch Netflix.
Anything else you'd like to share?
I have two awesome kids. My daughter, Trinity, is 8 and takes piano lessons from my former undergraduate jazz director through PMC. My son, Dillan, is 5 and although he is not yet pursuing music, I'm getting that percussionist vibe from him.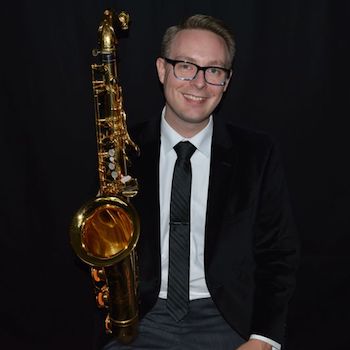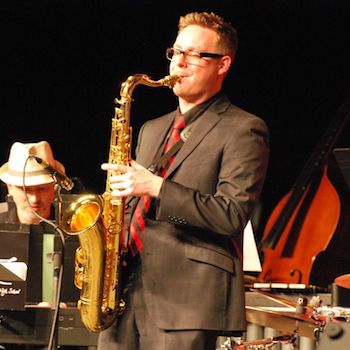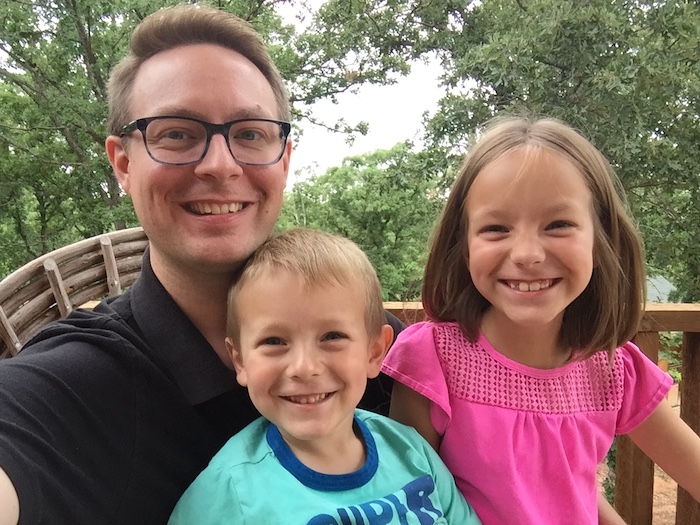 ---
Contact Your Local Palen Music Center Representative
Can we assist you with anything? Please contact your local
Palen Music Center
school road representative for all of your music education needs.
---