Monday, October 8, 2018
IN THIS ISSUE:
---
Open-Minded Communication (and Cookies!)
My nerd topic has always been the study of social emotional intelligence. As a director, this branched into student leadership. I greatly believe in the power and benefits of student leadership. As a director, I created a year-round program that started with an extensive 3-day training workshop. Once school began we continued the training with Monday afternoon sessions. During my time at Palen Music Center I have had the honor with working with student leaders in Missouri and Arkansas. The workshop is designed for the schools needs and goals throughout the year. To me, one of the most important areas in life is communication! Generally, the second session of the workshop is dedicated to this topic.
During the workshops, I like to have readings to energize the students mind. Below is an example of one of the communication articles we will read and follow with discussion. I have used this article in classrooms when students were not being open-minded about the goals the group was trying to accomplish. I hope you are able to use this reading with your students. If you need any additional articles please let me know. On a side note, when you have the student read the article out loud, remind them it is in 'Iambic Pentameter'. This will help with the rhythm of the words and is also cross-curricular!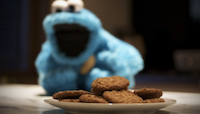 The Cookie Thief
by Valerie Cox
A woman was waiting at an airport one night, with several long hours before her flight. She hunted for a book in the airport shops, bought a bag of cookies and found a place to drop.
She was engrossed in her book but happened to see, that the man sitting beside her, as bold as could be...grabbed a cookie or two from the bag in between, which she tried to ignore to avoid a scene.
So she munched the cookies and watched the clock, as the gutsy cookie thief diminished her stock. She was getting more irritated as the minutes ticked by, thinking, "If I wasn't so nice, I would blacken his eye."
With each cookie she took, he took one too, when only one was left, she wondered what he would do. With a smile on his face, and a nervous laugh, he took the last cookie and broke it in half.
He offered her half, as he ate the other, she snatched it from him and thought..."oooh, brother. This guy has some nerve and he's also rude; why, he didn't even show any gratitude!"
She had never known when she had been so galled, and sighed with relief when her flight was called. She gathered her belongings and headed to the gate, refusing to look back at the thieving ingrate.
She boarded the plane, and sank in her seat, then she sought her book, which was almost complete. As she reached in her baggage, she gasped with surprise; there was her bag of cookies, in front of her eyes.
If mine are here, she moaned in despair, the others were his, and he tried to share. Too late to apologize, she realized with grief, that she was the rude one, the ingrate, the thief.
Click to download a PDF of this poem.
| | |
| --- | --- |
| | Melissia is from Willard, Missouri. She performed for years with the Phantom Regiment drum corp, graduated from Missouri State University and has teaching experience in Missouri, Illinois, and Nevada. She has achieved many things as a director including leading her marching band to the BOA Grand Nationals Semifinals and directing her concert band all the way to the Missouri Music Educators Association state convention. Melissia will be available to assist our partner schools with marching band clinics, concert band clinics, literature selection, assistance with recruiting, beginning band instrument testing, and much more. |
---
Meet the Team
Up Close With...
Jennifer Wassenaar
Manager, Joplin
How long have you been with PMC, and what brought you to the company?
I joined PMC on November 17, 2014. I only remember the exact date because that is my anniversary! My husband and I were relocating to Joplin for his job, and I was approached by Eric Matzat, the president of PMC, to join the team as the Joplin store manager/educational representative/chief cook and bottle-washer.
Where did you grow up? Musical family? Professional background?
I was born and raised in Farmington, MO, a small town about an hour south of St. Louis. My siblings and I all took piano lessons at some point growing up, and were involved in band and choir in school. I had rich experiences in school and attribute my love of music to my band and choir directors. I taught in southeastern Missouri as both a head band director and an assistant. I also was on staff at the Jefferson College Junior High Band Camp, and have taught flute masterclasses and lessons.
Any pets?
If you consider a dust-bunny a pet, then I have way more pets than I care to admit!
Any interesting hobbies?
My husband, Mike, leads the handbell choir at our church and I am a member. Most of all, I enjoy hanging out with my family. We're a lot alike and have fun together. I also like to read, do digital scrapbooking, and play my flute and sing. I've had the opportunity to travel to the country of Belarus (between Poland and Russia) five times on mission trips, and have made wonderful friends there, and have many fantastic memories.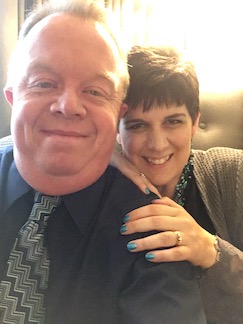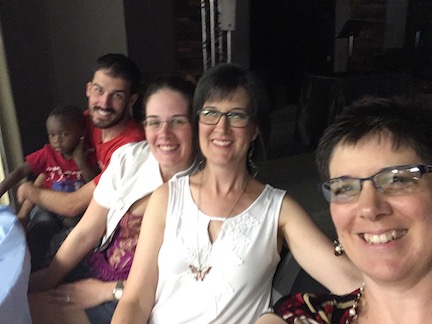 ---