Monday, January 20, 2020
IN THIS ISSUE:
---
House Points Competition
by Sarah Sacco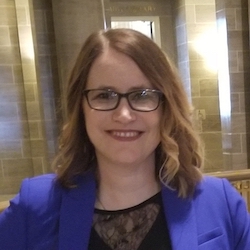 For those of you who don't know me well, I am a huge Harry Potter fan. I wouldn't say I am obsessive or anything crazy, but I will admit that I went to Silver Dollar City over Christmas break legitimately looking like a Hogwarts student from head to toe (or so my friend told me). When I found a way to incorporate Harry Potter into my band classroom, I jumped on it, and I am happy to say my high school band students seem to love it too.
We do a Hogwarts-themed "House Points Competition" during the 2nd semester. This competition is much like any other section competition you may have in your class, but with a little extra pizzazz. First, I divide the band up into 4 houses. I do not call them the official Hogwarts houses of Hufflepuff, Gryffindor, Ravenclaw, and Slytherin. (Although I am a proud Hufflepuff, I do not want any students to feel insulted that I did not sort them correctly based on their character attributes, and put them in a house they do not like. So, I avoid the official houses.)
One year I got a little silly and named each house after music terms. I had the "Marcato House", "Legato House", "Andante House", and "Allegro House." The kids thought it was pretty funny, but it didn't really stick like I wanted it to. The next year, I named each house after a mythological creature, which the kids really seemed to dig. We had "Pegasus House", "Tanooki House", "Yeti House", and "Thunderbird House." The first year, I went very basic on color and stuck with red, blue, green, and yellow. The big issue there was the house that had blue as its color had a bit of an advantage because our main school color is also blue. So the next year, I picked more obscure colors like pink, purple, orange, and yellow. This seemed to not give any one house a big advantage over the others.
When I divided the band, I didn't do it by section or alphabetically. I wanted to make sure that each house had some strong members. I first started by dividing my student leaders into separate houses. I made sure my drum majors were not in the same house. This way, the most responsible top students were spread out between each house. I also tried to keep siblings in separate houses. I have seen one too many times an older sibling "parent" the younger ones when they are falling behind. I didn't want to cause a nightmare at home because "little Johnny kept older sister, Susie, from getting house points" because he didn't do his work. After this, I go section by section and split them up. Tada! I now have my houses in place. I then announce them to the band and get things started. I don't do an official sorting hat ceremony, but I have to say that if I could find a timely way to do so, I would definitely add that aspect in.
How do I award points and what can they do to earn or lose them? The first year, I bought vases and colored marbles that I was going to display in the band room, adding and subtracting marbles to give them a really cool visual of how their house's standing. After about the third time the tubas knocked it off the shelf, I nixed that idea. Now I display points with a colored graph that gets posted along with my daily announcements. Students can earn points in many ways. Academically, they can earn points for attendance at our "out of class" sectionals, random pencil checks, turning in assignments on time, answering musical questions posted on Google Classroom, etc. I also give them random fun points, such as, "who is wearing their house colors today", "who is wearing a band shirt today", "which house sold the most in the fundraiser", etc. They can lose points by forgetting their instrument or music, not putting away their stand or equipment, having gum in their mouth, etc. I try to focus more on earning points than losing them; that way it creates a more positive classroom atmosphere. I give prizes at the end of the 3rd quarter and at the end of the semester. I have given goodie bags full of crackers, candy, etc. or a pizza party to the house that wins. For the most part, the kids care very little about the prizes, but more about the competition with each other.
It is a fun activity, and although it does take a little work, the kids get excited. It is a lot of fun watching them come in and check out the latest results. What can I say? I am a Harry Potter nerd, and I don't think I am alone in that. So, I hope some of you find this as a fun activity that you can enjoy with your students.
Mrs. Sarah Sacco has been the Director of Bands at Ava High School since 2008. Mrs. Sacco attended Missouri State University for her undergraduate Bachelors in Music Education. While at Ava High, Mrs. Sacco completed her Master's Degree in Secondary Education Curriculum Instruction from Drury University. Together with her husband, Chris Sacco, they co-direct the Ava Pride Marching Band, Symphonic Band, Pep Band, and the Middle School Band. During their time at Ava High School their students have been selected to perform in the District #9 Honor Bands, Missouri All-State Honor Band, Missouri State Lions Band, Macy's Great American Marching Band, Bands of America Marching Band, and the Army All-American Marching Band. Their students are also actively involved in the Missouri State Evaluative Festival solo and ensemble contest earning top ratings in both district and state performances. Instrumental ensembles under Mrs. Sacco's direction consistently earn superior ratings at the Missouri State Evaluative Festival and marching band festivals.
---
From the Classroom - Kremlin-Hillsdale (OK)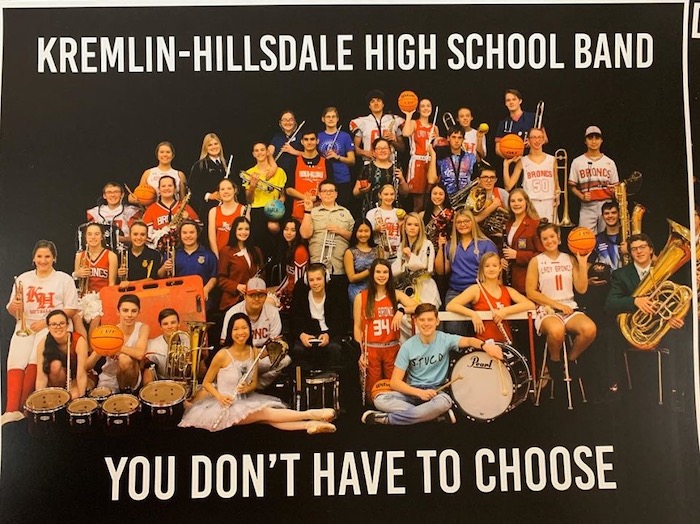 ---
Contact Your Local Palen Music Center Representative
Can we assist you with anything? Please contact your local
Palen Music Center
school road representative for all of your music education needs.
(417) 882-7000
(573) 256-5555
(816) 792-8301
(417) 781-3100
(405) 896-8111
(479) 464-8877
(918) 286-1555
(636) 229-1904
(417) 882-7000
---
If you would like to submit material, make corrections, give comments, or wish to be removed from this mailing list, please contact
David Gorham
.