Monday, November 16, 2020
IN THIS ISSUE:
---
The Care and Feeding of Woodwind Beginners
by Mary Ann French
Educational Representative, PMC Broken Arrow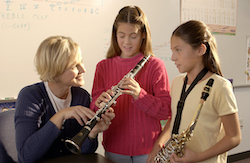 Getting off to a good start with woodwind beginners can be somewhat overwhelming for even the best teachers. There are multiple instrument parts, reeds and mouthpiece set-ups, embouchures, and hand position, just to name a few of the things involved in getting started. In order to have a successful beginning year you need to have a plan. Here are a few ideas that may help.
Make sure your students have working instruments. If an instrument does not come from a recognized band instrument source, be sure to play it to make sure it is in good operating condition. Look for missing pads or springs, torn or missing corks, and uneven key action.
Each student should have a band binder in which they organize all their band music, theory papers, and band book. Clear plastic sheet protectors can keep sheet music organized although music must be removed while playing. A pencil bag should also be included stocked with pencils, a grading pen and highlighters. Have regular binder checks for grades if possible.
Carefully and thoroughly teach reed and ligature placement and check every day until you are sure that each student gets it right every time. Throughout the year, have surprise reed checks to stress the importance of having good reeds every day.
Stress good posture and hand position every day. It takes consistent and diligent attention to details to ensure these will become the norm. Great modeling from the teacher always helps get these points across!
Perform a quick articulation "call and echo" each day at the beginning of class. Tonguing is of utmost importance on woodwind instruments!
Have a counting and note-naming system and use it every day. Try to keep it fresh by using student demonstrations and making competitions out of counting and note-naming. Make sure you note-name with fingers and on pitch.
Move around the room constantly. Beginners don't need a conductor -- they need correction and encouragement. Many behavior issues can be dealt with quietly by moving to students that are off task or need some help without having to take class time.
Always end class in time for students to swab out their instruments and put all of their music and accessories away. This will help eliminate broken reeds, lost music and poor instrument care.
It is much easier to get it right the first time than to have to go back and correct bad habits! Make each day fun and interesting by changing pacing and activities and don't be afraid to "punt" if something is not working. Try to teach each day with energy and enthusiasm. It will pay off!
| | |
| --- | --- |
| | Mary Ann French has been teaching music to students for more than 35 years. After graduating from Arkansas Tech University, she began her teaching career in Morrilton, Arkansas. After moving to Oklahoma, she worked at Bartlesville and later at Owasso for 15 years. Mary Ann has also taught in Maryland and Texas. After returning to Oklahoma, she spent 4 years as an educational representative for Palen Music Company before returning to the classroom with Union Public Schools. Now retired, we're excited to have her back at PMC. She has two grown children and too many animals to mention. |
---
The Importance of Lubricants
by Corey Divine
Brass Repair Technician, PMC Springdale
Each year, we teach our students to use a variety of oils and greases. But, do you really know the purpose of all these various concoctions?
Lubricants play an important role in the functioning of a musical instrument. The first, and most obvious, is to reduce friction in moving parts. This reduces wear, increasing the lifespan of the instrument. However, there is one frequently-overlooked aspect of a lubricant: Corrosion inhibition.
The leading cause of instruments needing to be professionally cleaned is the amount of corrosion on the valves and slides due to a lack of oil. Oil creates a barrier between the metal surface and the environment around it, and corrosion is the result of a process called oxidation which is a chemical reaction between oxygen and metal. When valve oil wears off or dries out, the metal is no longer protected from the oxygen being pumped through the instrument by our lungs, from condensation that stays inside the instrument, and from the oxygen in the environment. This causes valves and slides to freeze up, keys to bind due to rusty steel hinge rods, and, in the worst case scenario, causes an instrument to literally rot from the inside. I frequently find myself saying "If the valves are sticking, it is too late for oil."
What can you do about it? Establish a daily routine with your students to oil piston and rotary valves and lubricate trombone slides. Have a dedicated weekly time to grease slides, apply cork grease, and oil hinge rods. I recommend the daily routine oiling at the very beginning of class, and the weekly greasing routine at the very end of class on the last day of the week. If you follow this routine, you will notice the maintenance costs of your instruments decreasing due to the increased diligence in keeping corrosion at bay.
Remember, "An apple a day keeps the doctor away."
| | |
| --- | --- |
| | Corey Divine has been repairing musical instruments since 2012, and joined the Palen Music Center team in August 2017. He specializes in brass instrument repair. In 2015, he obtained Bachelor of Music Degrees in Music Performance and Music Education from the University of Arkansas. Most people have hobbies, but Corey enjoys instrument repair so throughly that he hasn't worked a day since 2012. His interests include collecting Conn instruments, building Frankentubas, restoring vintage trumpets and trombones, and spending time with his dear wife, two sons, and two dogs. |
---
Contact Your Local Palen Music Center Representative
Can we assist you with anything? Please contact your local
Palen Music Center
school road representative for all of your music education needs.
(417) 882-7000
(573) 256-5555
(816) 792-8301
(417) 781-3100
(405) 896-8111
(479) 464-8877
(918) 286-1555
(636) 229-1904
(417) 882-7000
---
If you would like to submit material, make corrections, give comments, or wish to be removed from this mailing list, please contact
David Gorham
.