Monday, March 15, 2021
Fielding a Modern, Competitive Marching Band Show With a SMALL Marching Band
by Ben Sachs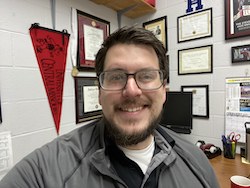 How many people does it take for a band to sound and look great? 60? 100? I'm here to tell you, your small school does not need nearly that many to sound and look fantastic. Here are some things that have helped with my small marching band's successes over the last several years:
Teach your kids to PLAY

Judges and fellow directors tell me every season, "WOW, your band sounds twice as big as it is!!!" While I guess that is a nice thing to hear, it's not true. The more appropriate statement is that MANY large bands sound half as big as they should. My band sounds like a band where every student is actually playing and filling up their instrument. How do I know this? I'm on the field every day with my ear in their bells making sure every student is accountable.
Every student must play every note of the show, and do it with a full, resonant sound. You may only have one kid per part in some sections. That one kid playing Trumpet 3 may be one of two people in the band with the 3rd of the chord - everyone is important to the overall band sound. Chase individuals around on the field as they march and hold them accountable - it's fun!
If one kid is sticking out of the texture, CONGRATULATE THEM and get the rest of their section to balance up to that player. It is WAY easier to do this early in the season and back them off later if needed. Kids will never know where their dynamic ceiling is if they have never even come close to it.
If the best marching ensembles have fantastic warm-up sequences, you should too. Do it every single day. For me it's Breathing Gym with breathing tubes, long tones, flow studies (range), Clarke studies (technique), a chorale, and a tuning sequence. All warm-ups are done with step-outs, marking time, and halts (chorale and tuning excluded). 3/4" PCV couplers from the hardware store work great as breathing tubes (about $0.10 each).

Teach your kids to MARCH

Are your uniforms 50 years old? Cool! Is that sousaphone entering its 89th consecutive season of use? Awesome! Should that effect how your students march and hold their instruments? No!
I go to so many marching shows where small band students don't know how to simply hold up their instrument, stand with good posture, and march with their feet in time. The entire core of the marching activity is uniformity - both in sound and visually. It costs $0.00 to teach your students to march correctly.
Focus on fundamentals, every rehearsal, every day, every rep. DCI groups look great because they never stop focusing on fundamentals. It doesn't matter if everyone hits their dot if they look like a train wreck while they're getting there.
Get the kids moving. Standing still for an entire movement is not a thing competitive bands do. Marking time for half a song is not visually impressive.
In my opinion, marking time is for music rehearsal. If you halt in a show, do something meaningful with the students' bodies that fits the music. Watch DCI shows from the last ten years and steal bits and pieces of their body movements and make it work with your music.
Do a visual warm-up every day. Every morning in attendance block, my band does a quick visual warmup that incorporates stretching and metered body/dance movements. It is nearly impossible to add beautiful flowing dance-inspired body movements into a show if the kids have never practiced it.

Buy a modern show

Would you rather have your students spend three months of their lives playing an arrangement of something by phenomenal current/historical composers or a stock arrangement of something by Ke$ha? Marching Band repertoire can be as educational and wholesome as concert band repertoire. Play pep tunes in the stands, do something meaningful and educational on the field.
There are sites out there where you can purchase a show for $1000-$1500 and they sound good. The one I use grants full rights to alter the show as needed to fit your group, they even send you the Finale files. Often times, these modern shows are actually easier from a technical standpoint for your winds. Percussion parts are the exception (usually 2-3X harder than the wind parts).
If you don't know anything about writing drill, pay someone to write your drill for you. You'll be amazed at how much better your life is when that burden is lifted.
If you don't have the money for any of this in your budget, fundraise for it. It's worth it.

Drumline - Move all of your percussionists to the front ensemble if you're short on players.

When percussion numbers are low, I'd rather be able to have each kid add a plethora of colors to the show rather than just "I play snare."
Modern shows are SUPER front ensemble heavy. Large wide-open breaks with lots of keyboards, concert percussion, and auxiliary percussion sounds.
Each year, I rewrite the drumline parts to be condensed down onto drum set.
Here's what I usually have in my front ensemble: drum set, 3 marching bass drums with legs (timpani setup, 1 player), keyboard synth, SFX (iPad), marimba, xylophone/bells (1 player), vibes, and 2-3 aux rack players (concert bass, gong, various cymbals, toms, temple blocks, tambourine, mark tree, triangle, etc.). I would not be able to have these colors or sounds in my show if I had ONLY a drumline. My percussionists do still play their drumline instruments in the stands, in pregame, and in parades.

Incorporate electronics

When used correctly, electronics can reinforce and highlight what is already good about your band (and fill in some sounds you are missing!)
If you are able to slowly build a real PA setup, you can mic your mallets and have your percussion students play their instrument with good technique instead of having to beat their mallet instrument with 38" stick heights to be heard over the trombones.
You don't have to go insane with your PA setup from the beginning. Start simple, build year to year. I started with one synth and a keyboard amp on an old rolling TV cart my library gave me.
Ask questions - I knew next to nothing about front ensemble electronics in marching band but I asked questions and did a lot of research.

Rehearse like a Champion

When you are the only director, you can not live in the pressbox/tower. Get down on the field with the students. Your sets are not that big; you can see what you need to see from the field and the kids will be more focused with your close proximity.
Run rehearsals efficiently. Resets are fast. Water breaks are very fast and VERY numerous. Have goals in mind for every rehearsal.
I know that music is not about winning. Music is about the artistry, the emotion, the passion, and the joy that comes from playing an instrument. That being said, why bother going to marching competitions if you are not bringing a competitive product?
Become an undeniable force at your school. Become one of the most successful organizations at your school and submit EVERY success you have to your admin and local newspaper for publicity. The more successful you are, the more likely your admin will give you money/items when you ask for them (they're usually former coaches - coaches understand winning).
Is your town a "football town"? Mine is. Make your halftime show something that grabs your home crowd's attention, instead of an opportunity to go get a hot dog. I have learned that my home football game spectators don't need to hear a song they know, they just want to be impressed. Pick the show you want for your competitive season, play it great, and your home crowd will love it!
Hailing from Union, MO, Ben Sachs received his B.M.E. from the University of Central Missouri and his M.M. in Trombone Performance from Indiana University and marched with the Madison Scouts Drum and Bugle Corps. Ben is currently in his 6th year of teaching band in Missouri, and his fifth year in his current position as the Director of Bands at the Gasconade Co. R-1 School District in Hermann, MO. Ben teaches the Bearcat Brigade Marching Band, High School Concert Band, High School Jazz Band, Basketball Pep Band, 6-8th Grade Bands, and Music Appreciation/Fundamentals of Music. In addition to teaching at Hermann, Ben is also the associate instructor of low brass at East Central College in Union, MO. Ben plays with the Hermann City Band and Friends of Aaron Jazz Band and is an active performer and clinician in his area.
---

Javad Hussain PMC St. Louis

Javad started working with Palen Music Center as a summer assistant in the summer of 2018 and was promoted to a full-time instrument repair technician in early 2019. He has a wide array of previous business experience and focuses mostly on brass repair and set-up work. When Javad is not repairing instruments, he enjoys spending time with his son as well as exploring the world of additive manufacturing, engineering 3D models, and integrating computer software & hardware for specific applications.
---
Contact Your Local Palen Music Center Representative
Can we assist you with anything? Please contact your local
Palen Music Center
school road representative for all of your music education needs.
(417) 882-7000
(573) 256-5555
(816) 792-8301
(417) 781-3100
(405) 896-8111
(479) 464-8877
(918) 286-1555
(636) 229-1904
(417) 882-7000
---
If you would like to submit material, make corrections, give comments, or wish to be removed from this mailing list, please contact
David Gorham
.